.SITE, .WEBSITE, .ONLINE and .FUN now free with a web hosting plan
Just a month after we announced our accreditation with Radix – a fast-growing and prominent nTLD registry, we are now ready with yet another great marketing perk for your stores.
You can now offer some of the most popular nTLDs on the market – .SITE, .WEBSITE, .ONLINE, and .FUN, for free with a web hosting package.
Learn more about the marketing potential of these extensions and how you can benefit from presenting them on your store attractively.
Why offer .SITE, .WEBSITE, .ONLINE and .FUN domains on your store?
The nTLDs stormed the already overcrowded domain registration market and marked the beginning of a new Internet era.
They all came with the mission to supply a relevant web address alternative to everyone looking to launch a personal or a professional site.
The nTLDs changed the way we register domain names and gave our online audience a new perspective.
They are all managed by ambitious companies, which invest tons of efforts in popularizing the extensions and making them as affordable as possible.
Thanks to Radix's flexible marketing policy and hard work, .SITE, .WEBSITE and .ONLINE are now among the 25 most sought-after nTLDs on the market and the rankings keep improving.
Here is an overview of those nTLDs and of the marketing potential they hold for your store.
.SITE – launched less than 3 years ago, this multi-purpose nTLD now ranks 11th in the official nTLD registration chart thanks to its explosively growing registration figures.
.SITE brings a wealth of opportunities to everyone wishing to secure a more memorable web address. It is intuitive, instantly recognizable and easy to remember. Also, it allows web designers and developers to feature the subject of their business right in their site name.
.WEBSITE – considered to be one of the first truly authentic generic domains, .WEBSITE gives site owners a chance to lay hands on a globally recognized name that naturally suits the context of the Internet.
The .WEBSITE extension is perfect for any personal site and can also do a great job for websites offering web design or web development services.
Launched 4 years ago, .WEBSITE now ranks 16th in the nTLD registration chart with almost 250 000 registrations worldwide.
.ONLINE – in less than 3 years, .ONLINE has managed to score the remarkable 660,000 registrations, which is a true record for an nTLD extension.
Today, .ONLINE is the 6th most registered nTLD on the market and is largely preferred over other extensions. This is largely due to its global 'online' feel, meaningful and hack-friendly nature. Plus, it offers a 'blank canvas', using which the registrants can 'depict' their uniqueness and promote their future projects.
In terms of global awareness, .ONLINE is the 3rd best-known nTLD and the most popular nTLD in Europe, especially in France, Germany and Poland.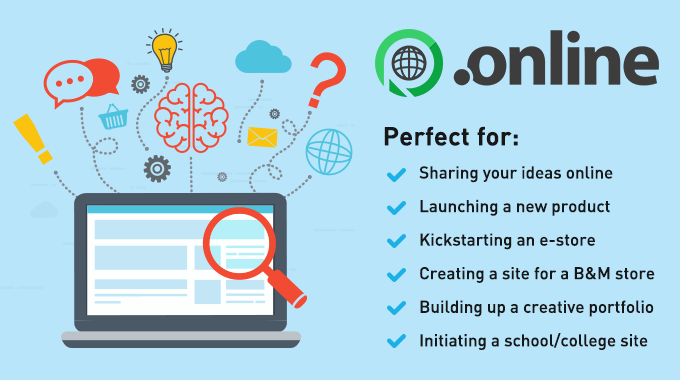 .FUN – the youngest of all 5 nTLDs, was launched less than a year ago with the sole purpose of being a dedicated namespace for webmasters offering funny and amusing content.
In only 11 months, .FUN has scored more than 80 000 registrations, which fully substantiates the demand for an entertainment website-friendly extension.
After all, we use the web mostly for… fun, so the demand for .FUN is expected to grow even more.
Domain registration requirements
As mentioned earlier, apart from offering flexibility and a wealth of alternatives compared to the over-crowded extensions, the nTLDs also boast a really simple registration process.
Just like any other nTLD on the market, .SITE, .WEBSITE, .ONLINE and .FUN can be registered for a period of 1 to 10 years.
They are open for registration to any individual, organization or company in the world.
They all support a transfer option, so you can move your existing domain over to our platform hassle-free.
If you want to protect the privacy of your information, you can take advantage of our Whois Protection service.
How to enable the nTLDs and 'set them free' with a hosting plan?
If you are not offering .SITE, .WEBSITE, .ONLINE or .FUN domains on your store, you can enable each of these extensions with a click from the My Domains section of your Reseller Control Panel.
Thanks to our recently obtained accreditation with Radix, all these nTLDs can now be offered for free with any web hosting package.
If you have already enabled the free-domain-with-a-hosting-plan option, you will not need to do anything else.
.SITE, .WEBSITE, .ONLINE and .FUN will be automatically added to the other TLDs offered for free with a hosting plan.
If you have not taken advantage of this option yet, you can do so by visiting the Shared Hosting Offers section of the Reseller Control Panel.
Just select the plan that you want to offer a free domain with and then enable the respective option for it.
NOTE: Just like with the other TLDs, the free-domain-with-a-plan offer will be valid regardless of whether a registration, a transfer or a renewal is taking place.
Apart from the free-domain-with-a-plan option, these TLDs will be available at a great promo price (valid for registrations only) until the end of the year:
The newly added free-with-a-plan domain extensions represent a great marketing perk for your store.
Thus, you can now offer a total of 20 TLDs for free with your web hosting packages, which gives you a great opportunity to appeal to a much wider audience.
Here are the TLDs that are available for free with a web hosting plan:
Originally published Friday, March 23rd, 2018 at 7:43 pm, updated May 16, 2018 and is filed under Domain Names.
Tags: domain reseller, domain promotions
Leave a Reply