We are now a CentralNic-accredited registrar! Great nTLD offers are on their way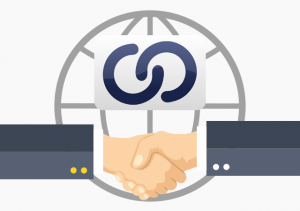 After a few months of negotiations and system adjustments, we've become eligible to offer CentralNic-managed nTLDs on our reseller hosting platform.
The London-based registry CentralNic is the back-end provider for some of the most popular new top-level domain extensions (nTLDs) on the web, among them .SPACE and .SITE.
Our partnership with CentralNic will open up excellent marketing opportunities and will add greater flexibility to our pricing policy. Learn more about the benefits of partnering with CentralNic and our future nTLD-related plans.
Some 'CentralNicstory'
CentralNic was established 18 years ago as a registry specialized in offering domain names like .UK.COM and .EU.COM. The latter two combine the local flavor of the country-specific extensions .UK and .EU with the universal appeal of the .COM gTLD.
Over the years, CentralNic has secured partnerships with the overseers of many other TLDs (among them .LA and .PW) to include them in its portfolio and to facilitate their distribution.
Since 2011, the company has been engaged in a large-scale campaign focused on lending back-end registry support to small nTLD operators in order to help them debut on the market more easily.
CentralNic boasts a proprietary, in-house developed nTLD registration engine, which is fully compliant with the stringent technical standards required by the industry regulator ICANN.
With a portfolio of more than 60 nTLDs, CentralNic has quickly become the largest back-end registry service provider in the world and a key participant in ICANN's new nTLD initiative.
Leading global registrars regard CentralNic's portfolio of nTLDs (.XYZ, .SITE, .SPACE, etc.) as being the most profitable one out there.
How can we benefit from the CentralNic platform?
Our partnership with CentralNic gives us access to a variety of marketing benefits, which will help us give you an edge on the competitive nTLD market.
The accreditation itself entitles us to enter into immediate contracts with a host of nTLD registries and to negotiate flexible and attractive pricing levels tailored to the specificities of our reseller platform.
Radix is the first nTLD registry we started a partnership with via the CentralNic platform.
It is a subsidiary business unit within the Directi Group – a multimillion-dollar company, which owns various domain name registrars.
Charged by its parent company with the task of applying for new generic top-level domain names via ICANN's nTLD expansion program, Radix has managed to win the exclusive global rights to oversee extremely popular nTLDs, such as .SITE, .SPACE and .WEBSITE:
Currently, Radix manages over 3 million active domains under 9 extensions, with 2017 being the most successful year so far registration-wise.
Our partnership with Radix will allow us to offer а very flexible pricing policy, which includes a discounted regular price and various promo offers.
We've started the partnership by moving the four extensions that we have offered so far via third-party registrars over to our system.
All of the extensions are offered at preferential wholesale prices and include attractive long-term registration promotions: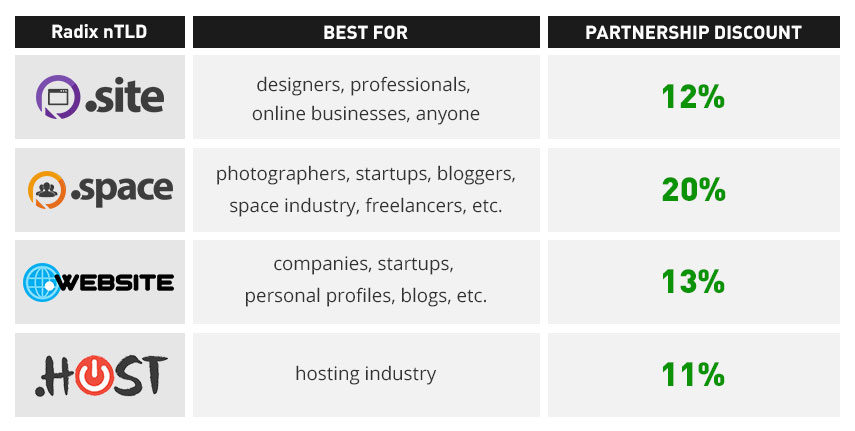 NOTE: You can now update the retail values accordingly in order to offer more competitive prices to your customers.
We've negotiated a gradual promo price reduction, so you can expect even more attractive offers in 2018.
The following 5 extensions will be launched in the upcoming weeks: .FUN, .ONLINE, .PRESS, .STORE and .TECH.
Also, we are currently working on integrating most of the Radix-managed extensions into our free-domain-with-a-hosting-plan bundle, so stay tuned for more information later this month.
Originally published Friday, February 9th, 2018 at 7:57 pm, updated February 9, 2018 and is filed under Domain Names.
Tags: domain extensions, nTLDs, domain promotions
Leave a Reply