Detailed traffic usage stats launched for dedicated servers
Keeping real-time track of your traffic consumption gives you peace of mind and a realistic idea of your overall server usage.
It helps you plan your resource utilization more adequately so as to prevent any eventual spikes that could disrupt your server's performance.
Dedicated server users can now rely on a much-improved, comprehensive daily traffic statistics tool that has been integrated into your Control Panel for the sake of ease of use. Learn more about it from our post.
What is the new server traffic statistics tool all about?
The newly integrated traffic monitoring tool is aimed at giving you up-to-date information about your inbound and outbound server traffic flow.
To find the tool, go to the Statistics section in your Hepsia Control Panel.
For now, it is only available in the default version of the Control Panel. We'll soon add it to the beta version as well.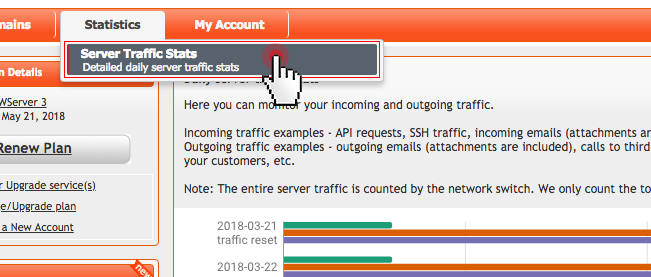 The statistics themselves are presented on a daily basis in an easy-to-read format.
It features a visual chart, which gives you а clear comparative illustration of your incoming/outgoing server traffic.
The table below focuses on the traffic figures themselves:

Also, in another table at the bottom of the Statistics section you will find a monthly overview of your traffic usage:
Using the floating menu in the top-right corner, you'll be able to select the period for which you want to get traffic usage information: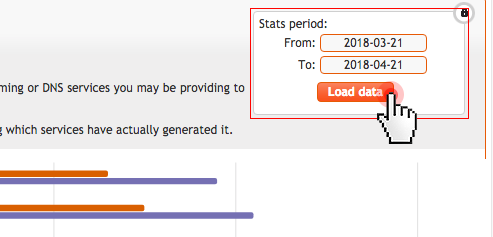 How to read the server traffic statistics?
The traffic statistics interface will keep you up to date with your bidirectional traffic flow, as follows:
Incoming traffic – this includes all operations that require a connection to your server:
all types of API requests;
SSH connections;
incoming emails with attachments included (if any);
inbound FTP connections, etc.;
Outgoing traffic – this includes all outbound server connections:
outgoing emails with attachments included (if any);
calls to third-party APIs;
outbound FTP connections;
any media streaming or DNS services that you may be providing, etc.;
NOTE: The entire server traffic is counted by the network switch. This means that we only count the total amount of incoming/outgoing traffic without knowing which services in particular have generated it.
Originally published Friday, March 30th, 2018 at 3:32 pm, updated March 30, 2018 and is filed under Dedicated Servers.
Leave a Reply