We celebrate ResellersPanel's 15th anniversary with a great .EU promo offer and a special infographic!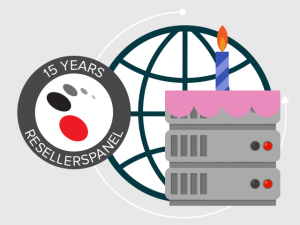 15 years of reaching new service milestones.
15 years of trying hard to fulfil our dream – namely to make reseller hosting affordable for everyone.
Our 15th anniversary is the perfect time to look back on what we've been through.
It's been 15 years since our first project was brought to life.
Back then, we had a tiny website and a big aspiration – to let the world know that we have a special solution for running a web hosting company from the comfort of your home.
With no tech skills and no upfront charges required whatsoever.
After just one year, we welcomed our 10,000th partner aboard!
Over the years, we tried our best to keep up with the current marketing trends – we kept upgrading our system and amping up our portfolio so as to give you a more competitive edge on the hosting market.
Today, 15 years later, we are blessed to have customers from 195 countries thanks to your persistent marketing efforts!
So, we are now offering you a special birthday gift – namely the great opportunity to register your desired .EU domain name for 10 years in a row at the symbolic price of 15 USD!
This exclusive offer will be available in your Reseller Control Panel only until April 13th, 2018.
To make use of it, you should just log into your reseller dashboard and select a preferred domain for your business or side project using the domain search form in the sidebar.
Also, we want to share with you our anniversary-dedicated infographic, which focuses on 15 selected milestones in ResellersPanel's history and to thank you all for your continued support and valuable feedback over the years!
Originally published Thursday, April 5th, 2018 at 4:15 pm, updated April 13, 2018 and is filed under Reseller Hosting.
Tags: domain reseller, free reseller program, domain promotions, service promotions
Leave a Reply