How to choose the right reseller hosting service for you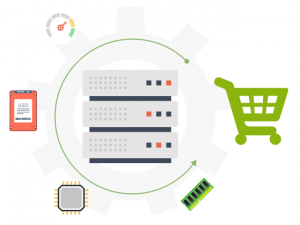 Reseller hosting is a dynamic and versatile business universe where everyone is welcome to step in.
With hardware components getting more affordable and customer management software solutions – more accessible nowadays, pretty much everyone can give this populated and very lucrative market niche a try.
The wealth of startup opportunities, however, often leaves newcomers wondering exactly which way to go.
Here is an overview of the most popular reseller hosting options on the market, so you can decide for yourself which option suits you most based on your experience.
Free reseller hosting – start selling hosting services with no experience whatsoever
Free reseller hosting is a sure-fire way to step into the web hosting market at no risk.
It does not require any special preparation beforehand, so if you want to go straight ahead and sell hosting services – this is the way to go.
If you cannot dedicate much time to setting up and managing a store and are not yet ready to run the risk of diving into a paid solution, then choosing a free reseller hosting platform is the most reasonable option for you.
Furthermore, the learning curve is much shorter than with the paid mainstream reseller hosting solutions.
So, if you are new to reseller hosting, a free reseller account is the way to go.
Here are the key benefits of choosing a free reseller hosting solution:
You will start off at no charge and will not have to pay any recurring service fees;
You can leave all server management, billing, invoicing and customer support tasks in the hands of your provider;
You don't have to be tech-savvy or to possess server administration, programming, web design, etc. knowledge;
You will be presented with a set of ready-made store templates, which you can customize to your liking with simple point-and-click actions;
You won't have to deal with package creation tasks – all you will have to do is select the packages that you want to sell;
You won't have any billing responsibilities – the provider will charge your customers each time they order a service and will give you the difference between the wholesale price and the retail price you have set yourself;
You won't have direct contact with your customers – the provider will handle all their pre-sale questions and technical assistance requests on behalf of your brand;
You will be able to dedicate more time to promoting your brand;
Signing up for our Free Reseller Program will give you just that – a risk-free way to start your hosting business whereby you can leave all service management tasks and customer care duties in the hands of professionals.
Signing up for the Free Reseller Program is very easy.
As soon as you have completed the short signup form, you'll be able to log into your reseller account and start setting up your brand and store using the templates mentioned above.
Operating as a free reseller is easy, since the provider takes the responsibility of handling the core service management tasks off your back.
NOTE: What if you are versed in reseller hosting and want to have more control over your business and money flows? Read further below.
2. cPanel reseller hosting – service/customer management experience required
If you've already got your feet in the "shallow end" of reseller hosting and are ready to invest money right from the start – then the mainstream cPanel reseller solution is just for you.
You will be able to grow your business at your own leisure knowing that you can always upgrade when the time comes.
With a cPanel reseller account, you won't have to worry about the server-side things, since the burden of server management will be taken care of by the provider.
This way, you will be free to manage your hosting business the way you like, while the most cumbersome and time-consuming tasks will be left in the provider's hands.
Here are the key benefits of choosing the cPanel reseller option:
No overselling – the resources you have paid for will never be resold to another user;
You will take care of the billing & invoicing software provision and be able to choose a merchant solution of your liking;
You'll be in charge of the customer support provision and be free to provide assistance the way you like using the channels you want;
All server management tasks will be taken care of by the provider – there will be no need for you to invest any efforts and/or resources in pure technical operations;
You will be assigned reseller hosting resources, so you can jump-start your store with minimum efforts;
You will have full control over the package creation process and be able to assign specific, per-package resource quotas, to set resource limitations as you deem appropriate, so as to keep the given server stable, etc.;
ResellersPanel's cPanel Reseller Program offers regular cPanel reseller packages, which allow you to set up an unlimited number of client accounts, and unlimited cPanel reseller hosting packages, which enable you to apply the "overselling" technique by offering unmetered disk space and monthly traffic quotas.
NOTE: With a cPanel account, you will have full control over your hosting business, but if you also want to gain control over the server environment itself, you will need another solution. Read on for more details.
3. cPanel-administered VPS servers
If you are keeping a tight rein on your business, but you also want to have "a say" in what server software is running and are ready to put more money aside, then the VPS reseller solution is the right option for you.
With a VPS, you will gain control over the server environment on a few levels:
You will get root access to the server;
You will be able to select which modules to install;
You will be able to reboot the server in the event of problems and to restore customer accounts yourself, if necessary;
You will be able to choose which software apps to install;
Your customers will be fully insulated from users who have non-optimized sites that may cause server issues;
Migrating your customers from a regular cPanel account will be a breeze as well.
The VPS hosting model has a lot of advantages over the regular shared solution, but you will need to make sure that you can offer your customers a stable hosting service.
If you do not feel experienced enough to manage a VPS server, you'd better turn to a managed VPS solution because if your server is not managed properly, it can go unstable and cause performance issues.
With a fully managed server, you will always have a problem-troubleshooting expert by your side.
At ResellersPanel, you can find different OpenVZ-based and KVM-based server packages, which can give you a head start into reselling cPanel-based virtual hosting services.
When signing up, just select cPanel as the Control Panel of your choice and your VPS will come pre-installed with the cPanel/WHM combo.
From then on, you'll be free to resort to software like WHCMS to manage your reseller hosting business.
With ResellersPanel's cPanel Reseller Program, you'll be able to make use of the ClientExec support & billing software tool at no cost.
NOTE: On a VPS, resources can get tight as your store gains popularity, so you risk running out of capacity.
That said, you can easily move your clients to a dedicated server via the cPanel account migration procedure.
Read further to learn more about this ultimate reseller hosting solution.
4. cPanel-administered dedicated servers
If selling hosting packages is your primary business objective and you are ready to grow your own solid hosting environment right from the start, then leasing a dedicated server is the right solution for you.
Here are the main benefits of choosing a dedicated server for your reseller hosting business:
You will get a wealth of server resources, which you'll be able to split between your customers;
You will get root access to the server and will have full control over the machine;
You'll be able to install your own Operating System;
If you are not server administration-savvy, however, managing a dedicated machine can be a very confusing and hard-to-pull-off endeavor.
In this case, you can simply make use of a managed server solution and have all basic server management tasks, including OS updates, server monitoring and rebooting procedures, troubleshooting assignments, etc., taken care of by someone else.
At ResellersPanel, you can find a variety of dedicated server configurations. CPU-wise, they can be split into three categories:
– Intel Atom-powered dedicated server configurations;
– AMD Opteron-powered dedicated server configurations;
– Intel Xeon-powered dedicated server configurations;
All setups are completely configurable. Storage-wise, you can choose between SSDs and HDDs. You can even select both! Plus, you can add more drives to your machine, if necessary.
On top of that, you can configure the drives in a RAID setup to supercharge the performance of your server.
***
Reseller hosting is a multi-faceted and tricky "beast". This is why, choosing the platform that best suits your experience and budget is crucial for stepping on the right track and building a business model that works.
So before you put your trust in ResellersPanel (or in any other reseller hosting provider for that matter), make sure you assess your current needs and knowledge realistically, so you won't end up wasting time and money.
Originally published Thursday, March 30th, 2017 at 9:52 am, updated May 5, 2017 and is filed under Reseller Hosting.
Tags: dedicated servers, semi-dedicated servers, Virtual Private Servers, cPanel reseller, free reseller
3 Responses to "How to choose the right reseller hosting service for you"
Web Admin Says:
April 19th, 2017 at 8:35 pm

Domains and Web Hostings at ResellerBag.
-http://resellerbag.com

Free Reseller Account (Whitelabel): ResellerFree.com

Cheap
and Affordable Domains, Hosting services at http://resellerbag.com,
Cpanels, Emails, ssl certificates, website builder, VPS, and much more.
ResellerBag offering free Reseller Account with Pro Storefront, with
ResellerBag earn money with hosting reseller business signup via
http://resellerfree.com, cheap Linux Reseller Hosting and Windows
Reseller Hosting plans at http://resellerbag.com

HOSTRIGS WEB HOSTING Says:
September 12th, 2017 at 11:31 am

Thank you so much For such informative information.It will be really helpfull for begineers.

Koby Flinn Says:
April 24th, 2018 at 7:33 am

Great Post ! Thanks to sharing the guidance for re-seller hosting services for a business. This can be play a good role for newcomers or startup beginner for their Business Cloud Hosting solutions. Thanks for providing also benefits with details. "Inodecloud" provides a solid Cloud Hosting environment for your business with affordable hosting packages.
Leave a Reply