The first free reseller hosting program on the web has turned 14! Our present to you is a super-cool semi-dedicated server promo!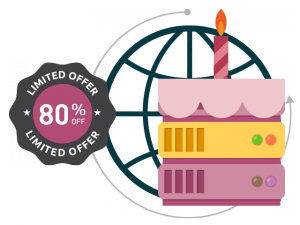 Our flagship reseller hosting program – ResellersPanel, has turned 14!
Popular wisdom has it that "Experience is a dim lamp, which only lights the one who bears it".
Well, we've been carrying that "lamp" for 14 years, learning from the mistakes we've made en route and becoming more consciously aware of how to make things better.
A 14-year free reseller hosting journey on the wings of your feedback and support
It's been a winding journey full of countless challenges, industry bottlenecks and ad-hoc solutions, of never-ending hardware refinements and software enhancements.
Your never-ending support has kept our engine fuelled throughout this journey.
Your helpful feedback has kept us going forward, eager to get things done at all costs.
We have two surprises for you on our birthday.
The first one comes in the form of a positively charged, smile-laden birthday video – a special greeting for you, our valuable partners!
A special promotion on semi-dedicated servers 
The second surprise for you is a brand-new service promotion.
At a mere $5/mo, the Semi-dedicated 1 package will be "up for grabs" for a period of 3 months!
You and your customers can now take full advantage of the promotion and find out firsthand what it is like to have your sites and projects hosted on a semi-dedicated server at a really attractive price.
Just like with the OpenVZ and KVM VPS promotions, the users will be charged the quarterly promo price (a total of $15 USD) at signup.
Тhe promotion will run for 3 months, so hurry up and spread the word, so your customers don't miss out!
You can enroll in the promotion from the Semi-dedicated servers -> Promotions section of your Reseller Control Panel:

NOTE: Please keep in mind that because of the quarterly promo price payable upon registration, the promotional semi-dedicated server package does not support the Free Trial option.
What are the advantages of semi-dedicated servers?
Semi-dedicated servers are a time-proven solution for owners of resource-consuming sites who need to migrate from a regular shared hosting platform to a more powerful one at a reasonable cost.
Since their introduction 6 years ago, our semi-dedicated servers have become a preferred choice for hundreds of users who have outgrown the resources offered by their shared hosting accounts, but are not yet ready to move to a dedicated server.
Here are some of the advantages of moving up to a semi-dedicated server:
Boosted performance – semi-dedicated servers offer 4-5 times more performance-critical resources, including substantially increased CPU usage quotas and lavish amounts of database query processing power. This will help users run busy sites and complex applications and handle vast numbers of concurrent requests sent by forum users, online shoppers, etc.
Guaranteed security – semi-dedicated server users can rest assured that their sites and applications are being kept stable 24/7. Apart from that, they will be able to leverage all the security improvements that we've introduced to our web hosting platform so far, among them the ModSecurity anti-hack firewall, plus lots of anti-virus protection enhancements.
A fully managed server solution – all server monitoring and management procedures will be taken care of by our administrators. Also, they will run routine maintenances to keep the server up to date with the latest software/hardware and security innovations on the market. This will give you plenty of time, peace of mind and the possibility to focus on your projects rather than waste efforts on backend operations.
Ease of use – managing a semi-dedicated server is like managing a regular web hosting account, which means that there will be neither an admin console to log into, nor an Operating System (or other software) to configure. Thanks to the in-house built Control Panel each semi-dedicated server comes with, managing your sites and applications will be a breeze.
***
The new semi-dedicated server promotion gives you yet another chance to attract more customers.
Over the past 12 months, we've launched different TLD, OpenVZ and KVM VPS promotions to give you an opportunity to stand out in a cut-throat market such as this and draw more eyeballs to your stores.
Originally published Tuesday, April 11th, 2017 at 2:33 pm, updated April 19, 2017 and is filed under Reseller Hosting.
Tags: reseller hosting, semi-dedicated servers, service promotions
3 Responses to "The first free reseller hosting program on the web has turned 14! Our present to you is a super-cool semi-dedicated server promo!"
knkamunyu Says:
April 12th, 2017 at 5:24 am

Thank you resellers panel, we are also glad for the 24HR support from you. We have always enjoyed your services, in Kenya. I was looking foward to see mail upgrade features in your new offering e.g Firewall to block off the SPAM mails, Address book sharing, etc. Is this coming in the near future?

resellerspanel Says:
April 12th, 2017 at 12:29 pm

Hello, thanks for your suggestions. Currently, we have anti-spam protection on the mail servers and the Email Manager of the Hepsia Control Panel features an option to set custom SPAM filters per mailbox. Also, the in-built webmail client allows you to import address books from other clients, etc. Is there anything else you mean by your suggestions?

Jackson Says:
October 15th, 2017 at 4:40 pm

thanks for resellers panel its a great a platform i use it in our website
Leave a Reply