Semi-dedicated servers see a long-term, 40-44% price reduction
Just a few months ago, we started the summer off with a cool, entry-level semi-dedicated server promo, which still keeps drawing site owners with growing resource needs to your stores.
That said, we are ready with a new, long-term semi-dedicated server price update.
Starting today, the Semi-dedicated 1 package is available at a 40% lower wholesale price, whereas the Semi-dedicated 2 package – at a 44% lower one.
The price reduction is part of our long-term policy to make your services more and more competitive on the ever-changing web hosting market.
What are semi-dedicated servers about?
A semi-dedicated server can be thought of as a powerful shared hosting package, which supplies website owners with the resources they need to manage their resource-demanding projects at a reasonable price.
A semi-dedicated server represents a special, 'middle-of-the-road' solution crafted for those of you who want to feel less dependent on the other users on the same physical machine.
It spares you the need to pay an unreasonably high price for a full-fledged dedicated server when everything you need is just a little more hosting freedom.
Technically speaking, a semi-dedicated server is a dedicated machine shared by a small number of users.
Sharing the available physical space with just a few users minimizes the risk of performance slowdowns resulting from resource overuse or unoptimized sites.
The smaller number of users unlocks for you a much greater chunk of server resources.
You can avail of higher resource allocations without having to worry about other users tapping into your shares.
Key advantages of moving to a semi-dedicated server
If you are running fast-growing e-commerce sites or web applications, you will sooner or later need to move to a more powerful solution.
Until your projects grow enough and reach the dedicated server rental stage, you can make use of a 'midway', semi-dedicated hosting solution.
Following are some of the key advantages of semi-dedicated servers:
· Optimized performance – semi-dedicated servers offer up to 5 times more resources than shared hosting accounts do (pumped-up CPU usage quotas, a generous amount of hourly database queries, etc.).
This will help your customers manage resource-intensive sites like forums or online stores and handle a large number of concurrent requests at peak times.
· Iron-clad security – semi-dedicated server users can rest assured that their sites and applications are hosted in a stable environment. 
Also, they will be able to make use of all the security upgrades that have been introduced to our web hosting platform. Those include the ModSecurity anti-hack firewall, plus lots of anti-virus protection improvements. 
This way, customers will not need to take any security measures on their end to ensure stability and protection from malicious activity.
· A fully managed server solution – just like on a regular shared server, all server monitoring and management procedures will be taken care of by our administrators.
Also, routine maintenance tasks will be run regularly to keep the server up to date with the latest software and hardware security innovations on the market. This means that you will have plenty of time to focus on your front-end projects.
· A point-and-click Control Panel – managing a semi-dedicated server is just like managing a regular web hosting account.
Thanks to the in-house built, point-and-click Control Panel, which comes with each semi-dedicated server package, taking care of your sites and applications will be a real pleasure.
You won't have to log into an admin console or to configure the Operating System (or other software).
Why choose a semi-dedicated server over a VPS?
When searching for a more powerful, yet affordable solution for your growing hosting needs, you can also consider an entry-level Virtual Private Server.
Whether you select a semi-dedicated server or a VPS will depend on your technical experience.
While semi-dedicated servers are fully managed, on a VPS you will have control over your OS and Control Panel installations.
VPS users need to be well-versed in server management in order to achieve performance gains.
Besides, on a VPS you will only get a network uptime guarantee, while the fully managed semi-dedicated solution will give you a peace of mind-ensuring 99.9% service uptime guarantee.
Plus, you will enjoy the same fully dedicated 24/7/365 technical support service as the one provided to shared hosting account owners.
What are the new prices about?
The new price update affects the Semi-dedicated 1 and Semi-dedicated 2 packages.
The wholesale price of the Semi-dedicated 1 plan has been lowered by 40%, while that of the Semi-dedicated 2 setup – by 44%, as follows: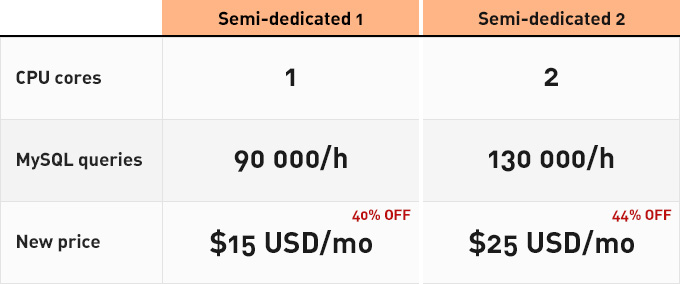 Due to the substantial price reduction, we've updated your retail prices accordingly.
NOTE: To fine-tune the new prices to your particular marketing strategy and retain the desired profit margins, please log into your Reseller Control Panel and apply the necessary tweaks.
Originally published Wednesday, September 20th, 2017 at 3:51 pm, updated November 30, 2017 and is filed under Dedicated Servers.
Tags: semi-dedicated servers, shared hosting, service promotions
4 Responses to "Semi-dedicated servers see a long-term, 40-44% price reduction"
Leave a Reply