Black Friday kicks in with an up-to-30-percent discount on the 'ATOMic' dedicated servers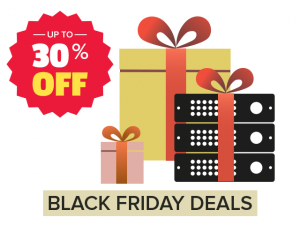 The holiday season's shopping spree kicks off on Black Friday, so it's just about time for us to open up the box of special winter deals.
Starting today, the entry-level dedicated servers will be available at a lifetime discount of up to 30%.
Read further below to learn more about the new exclusive price reductions.
What do the new discounts amount to?
Black Friday weekend, which starts the holiday season off with a bang today, will culminate on Cyber Monday.
Though the year-end shopping craze gives buyers amazing opportunities to strike a good bargain, it's really a short-lived hype they have to wait all year long for.
To capture the 'craziness' of the holiday season, we've introduced several timely pricing updates that will help you monetize your marketing efforts in the long run.
Starting today, you will be able to leverage off a substantial price reduction on all three Atom-based dedicated server setups.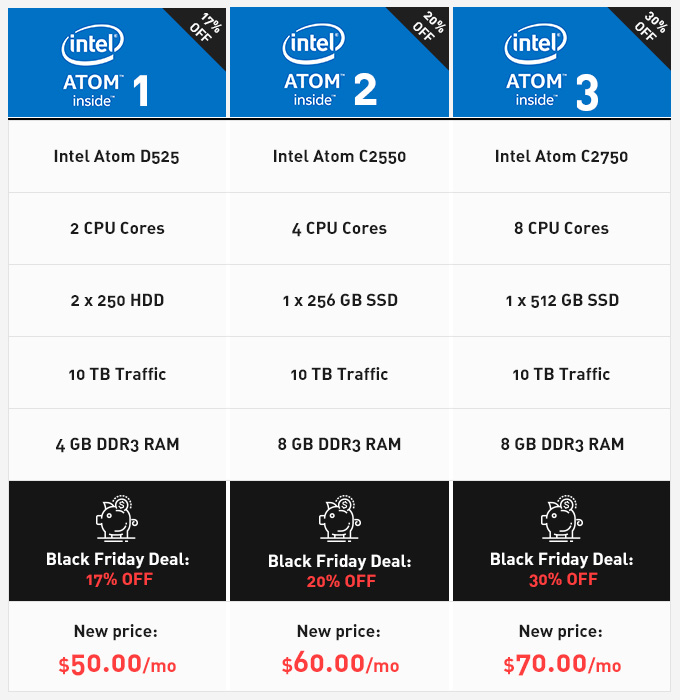 As you can see from the table above, the Atom 1 configuration is now available at a 17% discount, the Atom 2 package's price has been reduced by 20%, whereas that of the Atom 3 plan – by a whopping 30%!
The price reduction is part of our long-term policy to make your offerings more competitive and profitable.
How will the new prices be reflected on my store?
Due to the significant wholesale price reduction, we've updated your current retail prices accordingly as well.
To fine-tune the new prices to your particular marketing strategy and retain the desired profit margins, please log into your Reseller Control Panel and apply the necessary tweaks:
To expedite the price changes, make sure you click on the "Quick template update" link:
NOTE: All your existing customers can take advantage of the holiday-season price reduction as well. The prices of their recurring contracts will be updated before the end of Monday, 27 November.
How powerful are the Atom-based dedicated servers?
The Intel Atom-powered server range represents a great entry-level solution for light processing tasks.
From a hardware point of view, the Atom-based servers are small-sized, low-powered and virtually silent machines offering fast sleep/wake features.
The Atom 2 and Atom 3 configurations are equipped with SSD drives that practically have no moving parts for ultimate reliability.
Our lowest energy-consuming selection of dedicated servers is perfect for hosting small and medium-sized business applications that do not require a lot of processing power or large storage capacity.
It's also excellent for anyone wishing to run, say, a testing/remote backup server, an office file server or a lightweight web server.
***
If you'd like to seize the occasion and take full advantage of the Black Friday shopping craze, you can still make use of the super-cool OpenVZ and KVM VPS promo campaigns.
You can enroll in both campaigns from the Active Promotions section of your Reseller Control Panel.
Originally published Friday, November 24th, 2017 at 5:26 pm, updated November 24, 2017 and is filed under Dedicated Servers.
Leave a Reply