Dedicated servers face a significant backup space upgrade
Data security is of critical importance to your projects and when you manage an entire server, no compromises can be made.
A high-quality backup service is an indelible part of server security 'game', which is why we've been making every effort to ensure one for our clients as well. 
Аs of today, all Hepsia-managed dedicated server configurations come with 100 GB of backup space by default. And that's not all – keep reading to learn more.
What is the new upgrade like?
All present and future dedicated server users will get a default backup space quota of 100 GB.
This means that we'll keep a 100-GB archive of the data stored on their servers.
Users can avail of the allocated backup space at any given moment.
All they will need to do is contact our technical support team reps who will restore their content from backup as soon as possible.
You won't have to do anything on your part in case of loss of content – it will be restored to the way it had been before.
Current users will get the new quota automatically, no action will be required of them. New customers will be assigned the new quota during the server setup procedure itself.
NOTE: We restore the whole server content that falls within the 100 GB quota allocation, not separate files.
100 GB of Dropbox and Google Drive backup space
Apart from the 'in-house' server backup space allocation increase, we've also pumped up the Dropbox and Google Drive backup space quotas.
From now on, dedicated server users will be able to leverage another 100 GB of backup space using their Google Drive and Dropbox accounts.
How can I check my current backup space allocation?
You can check your current server backup space allocation in the Hepsia Control Panel.
Just click on the name of the package in the upper left corner and you will get an overview of the plan's features, which will now include the newly added 100 GB of backup space: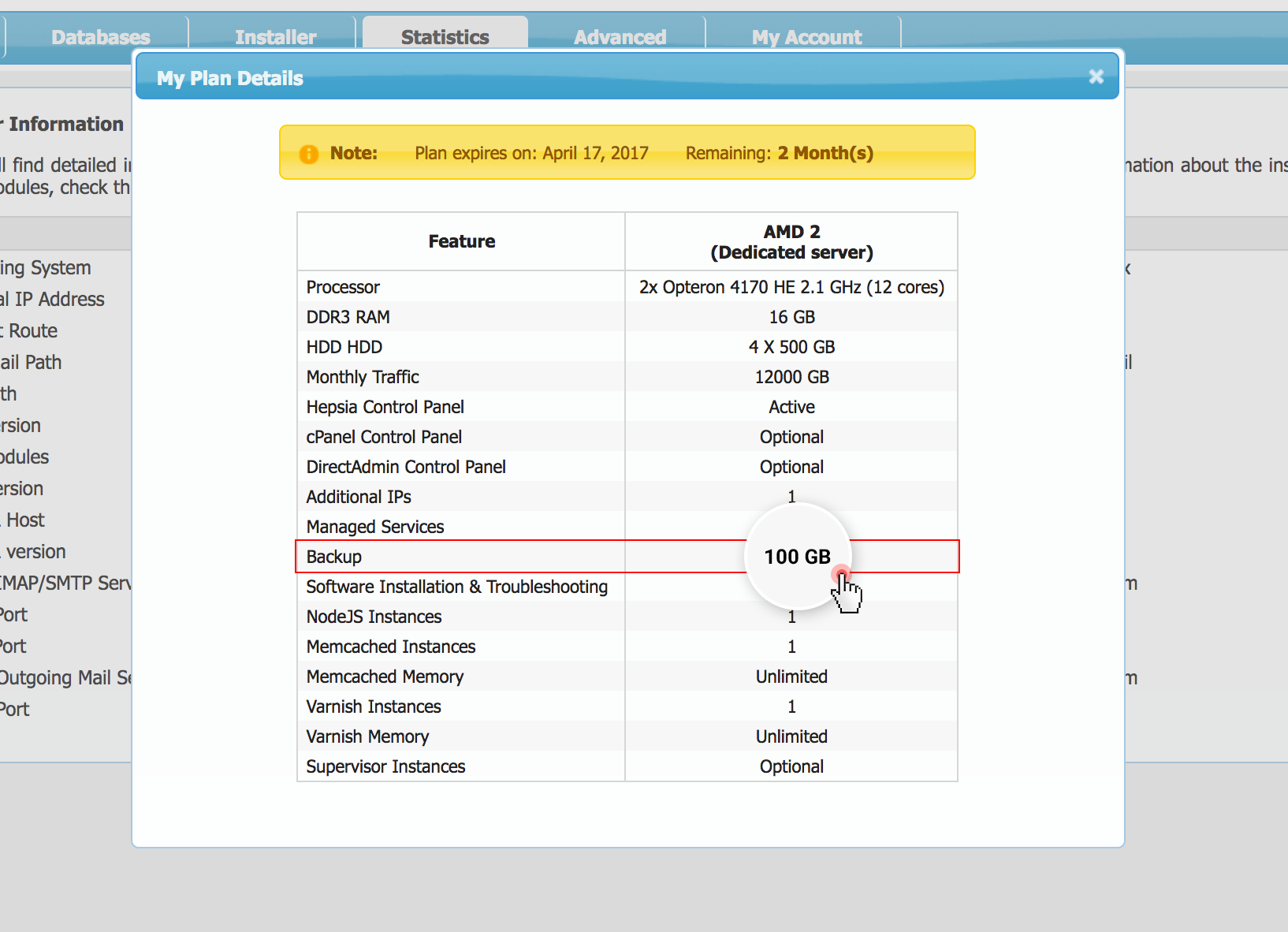 If you need more than 100 GB of backup space, you can add more on the order form at signup:
This will add at least 50 GB of backup space (the minimum upgrade amount) atop the default 100 GB.  
***
The new backup space quota increase will be reflected on all Store Master theme-based web hosting stores immediately:
It will take some time for the update to be reflected on the WordPress-driven stores.
Originally published Thursday, February 16th, 2017 at 5:27 pm, updated February 16, 2017 and is filed under Dedicated Servers.
3 Responses to "Dedicated servers face a significant backup space upgrade"
HOSTRIGS WEB HOSTING Says:
September 13th, 2017 at 6:47 am

Thank you so much for such a informative information.It will be really helpfull.Dedicated Server has capability to managed heavy application such as E-commerce site,Gaming and all.It is necessary have to take backup and handleing so far.

kushi sharma Says:
June 2nd, 2018 at 5:04 am

Dedicated hosting is a hosting solution whereby customers .

kushi sharma Says:
June 2nd, 2018 at 5:21 am

Thank you so much for such a good topic. dedicated server hosting to host your larger websites and apps. Manage your dedicated server with unlimited storage.https://www.serverwala.org/
Leave a Reply