The official ccTLD for Ireland has debuted on our platform! We're now an .IE-accredited registrar!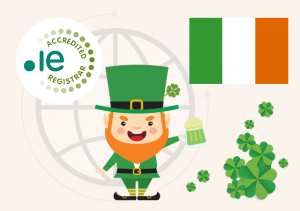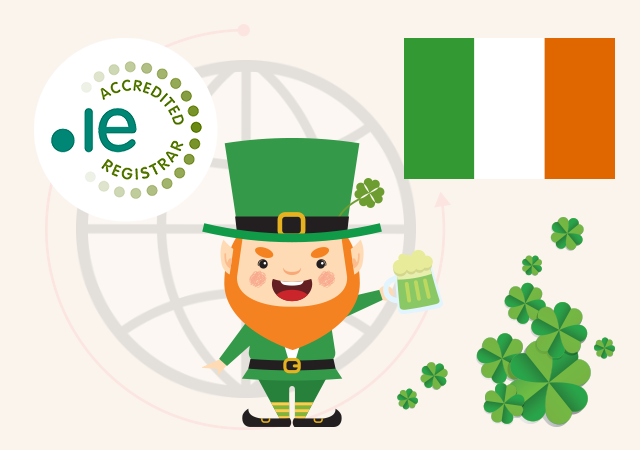 Just a few months after we received our .US accreditation, we're now happy to inform you of our new partnership with IE Domain Registry – the company, which oversees the allocation of .IE domains.
As per the newly signed agreement, we'll be able to offer .IE domain registrations directly from the source. Thus, you will get the lowest possible prices, which will give you an edge over the competition.
Learn more about the benefits of offering .IE domain names on your store from our post.
Some storIEs
.IE – the official ccTLD for the Republic of Ireland, was first introduced on 27 January 1988. A year later, the registration of .IE domains was delegated to the University College Dublin.
For the sake of more transparency, in 2000 the administration of the .IE namespace was transferred over to a commercial entity – IE Domain Registry Limited (IEDR).
Since then, the company has been managing the .IE ccTLD in a very consistent and conscious manner.
It has developed a specific verification policy aimed at minimizing the cases of cybersquatting and at ensuring that the official Irish namespace has a 'clean' image.
As a result, .IE ranks amongst the safest extensions in the world, with much less instances of cybercrime and cybersquatting compared with other domains.
Why register an .IE domain?
The .IE ccTLD will instantly put an Irish 'halo' on your online presence.
Here's a list of some of the benefits the .IE extension will bring to your Ireland-targeted site:
Guaranteed Irish connection – you'll be perceived of as being Irish, which will help you maximize your online presence in Ireland;
Guaranteed trust – with an .IE domain, you will instill confidence in your visitors. Тhanks to the stringent .IE domain registration procedure, your customers will know that you're legitimately connected to Ireland;
Guaranteed security – as mentioned above, there are much less .IE domain-connected instances of cybercrime;
Higher search engine rankings – with an .IE domain, your site will appear higher in local search results;
Brand protection – figures show that thousands of .COM domain name disputes are filed each year, while the .IE ccTLD-connected claims are just a few;
Much higher availability – your preferred domain name is much more likely to be available under .IE than under the overcrowded .COM namespace;
Why offer .IE domains on your store?
Thanks to its very favorable business climate and flourishing digital market, Ireland ranks amongst the most thriving economies in Europe.
Facilitated by its ever-growing youth population, Ireland has become home to a number of business startups and international tech giants.
Among the key sectors of the Irish economy are information technology, software and engineering.
Tourism is the strongest 'mainstream' sector that has a major contribution to the country's economic welfare.
According to the Irish Tourist Industry Confederation, 2016 was a record year for Irish tourism, which brought in over €8 billion to the Irish economy, surpassing all previous records. The number of foreign visitors increased by 10% in 2015.
Apart from the remarkable business growth, Ireland boasts a progressive digital market with an impressive 93.8% of Internet-connected households.
All that makes Ireland an extremely attractive target market.
By offering .IE domains at really attractive prices on your store, you will be able to draw Irish businesses' attention and to keep them coming back again and again.
.IE domain registration requirements
Registration is restricted to individuals and organizations connected to Ireland.
IE Domain Registry's strict verification policy requires applicants to provide proof of entitlement to the domain they want to register.
Generally, an individual is allowed to register their own name, or a variant of it, with a utilities bill or passport as proof of entitlement.
Companies and organizations in turn are required to substantiate their registration rights (e.g. companies need to supply a VAT number, charities – a NIC number, etc.).
We've tried our best to simplify the registration procedure so that the future .IE domain registration applications can be processed as quickly as possible.
Here is an overview of what your customers will need to consider when applying for an .IE domain name:
Registration Type: Here the applicant will need to select the type of entity that they represent:
They can choose between the following options:
Company
Sole Trader
Club, band or local group
School, educational institution
State agency
Charity
Natural person – a blog owner, etc.
Reason for registration: The applicant will need to specify whether the domain name they want to register is an exact match, an abbreviation or an acronym of a personal or company name or not.
If they select the second option, they will need to explain in a few words why they want to register the domain in question and what it will be used for:
Once done with the above-mentioned options, the applicant will need to agree to provide the required supporting documents:
NOTE: The 'Reason for Registration' field was removed on March 21st, 2018 and you no longer need to show a 'claim to the domain' when registering a new .IE domain. 
After that, the applicant will need to fill in the standard registrant details.
As soon as the domain registration request is submitted, it will be automatically redirected to the .IE registry.
Once we receive information from the registry what supporting documents will be needed for the registration to complete, we'll contact the applicant via the ticketing system.
As soon as we get the requested details (an ID copy, a certificate of incorporation, etc.), we'll submit them to the registry and will wait for approval.
The procedure isn't as complicated as it may sound. On the contrary – it can be executed quite fast. Everything depends on the timely submission of the requested documentation.
How to enable .IE on your store?
The .IE ccTD has been enabled on behalf of all partners of ours who have not made updates to their TLD listings yet.
All you will need to do is simply move it to the desired position in the domain search form:
If you have made any updates to your TLD portfolio, you will need to enable the .IE extension from the My Domains section of your Reseller Control Panel.
.IE accreditation benefits
The .IE registry is very strict when it comes to accrediting domain registrars as well.
.IE-accredited registrars include companies, organisations or individuals that have demonstrated experience and expertise in managing .IE domains on registrants' behalf.
Prior to receiving our accreditation, we went through a thorough verification process, which convinced the .IE registry that we would be able to provide excellent .IE domain registration services.
Thanks to our .IE accreditation, we are now able to offer .IE domain registration services at really competitive prices. We'll be able to offer attractive promotions in the near future as well.
So, hurry up and start promoting .IE domains on your store! Thus, you will join the lucrative Irish market!
We'll do our best to give you a competitive edge with a fast, secure and cost-effective .IE domain registration/management service around the clock.
Originally published Wednesday, December 13th, 2017 at 4:08 pm, updated March 22, 2018 and is filed under Domain Names.
Tags: domain registration, domain extensions, domain promotions, ccTLDs
Leave a Reply