Domain expiration pages have been re-designed
An expired domain may be a harbinger of a leaving customer.
As part of our strategy to make your domain portfolio more attractive and to help you retain your existing customers, we've revamped the domain expiration pages.
Your customers will now get information about their expired domain names in a more visually appealing and actionable way.
What are expired domains?
Domain name registration is a time-conditioned service whose length is typically between 1 and 10 years, depending on the particular TLD.
Registrars are responsible for sending registrants domain expiration notifications in order to prevent them from losing their site names.
Despite that, many registrants intentionally allow their domains to expire because they either do not need them anymore or have moved on to other projects.
The percentage of users who forget to renew their domains is not to be neglected either.
This means that they either have stopped using the emails associated with their domains or are simply ignoring the notifications that have been sent to them.
Once a given domain has expired, it will enter a post-expiration time period during which it will remain under the control of the same registrar and the domain owner will still be able to renew it at the regular price.
During that period, the name servers associated with the domain in question will be suspended, while the domain itself will be redirected to a page, which will include details about the domain's expiration date and will offer renewal instructions.
The way the domain expiration page looks can help encourage the given registrant's decision to renew their domain.
For that reason, we've tried our best to craft a page that will offer your customers all the information and actionable content they need to renew their domains.
What's new in the domain expiration pages?
The newly revamped domain expiration pages follow the guidelines set out by ICANN.
The page will inform your customers of a given domain's expiration date and will list detailed, step-by-step instructions on how that domain can be renewed.
Here's an overview of what those instructions will look like online: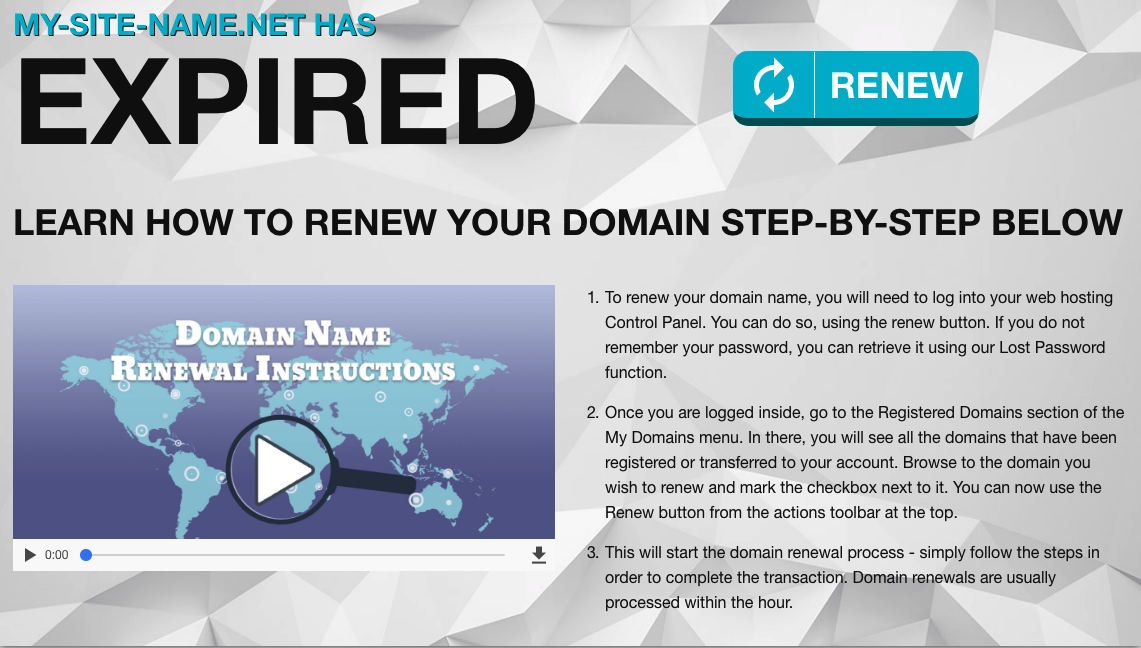 For the sake of variety, we've crafted various domain expiration page layouts using different color combinations.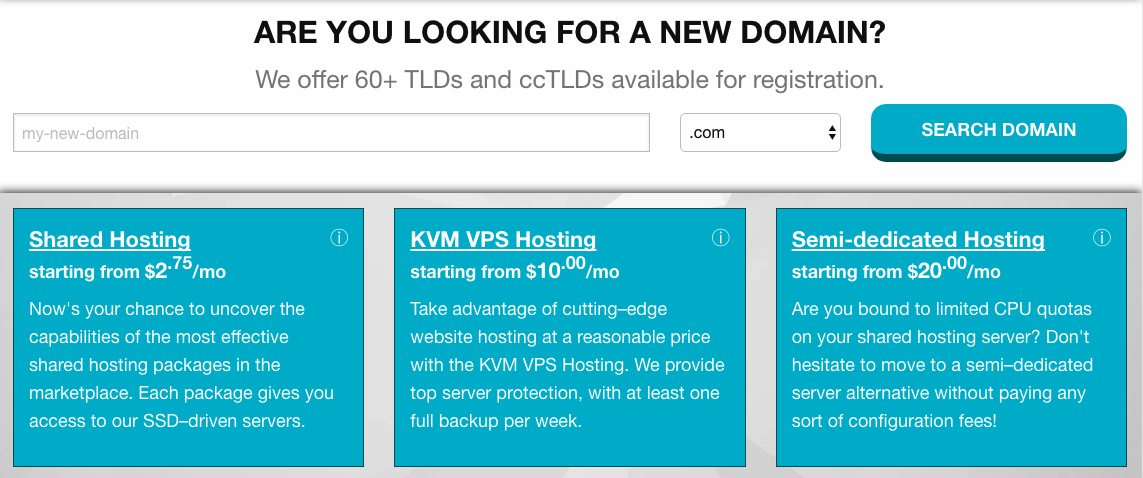 Apart from the domain renewal instructions, the page will also feature a domain search form in case the customer does not want to use the expired domain, but would rather try a new one, as well as service advertisements related to your store.
NOTE: These new pages will show up only for domains for which we are the official registrar – .COM, .NET, .ORG, .INFO, .BIZ, .EU and .US. 
How long will the new expiration page be available online?
As an ICANN-accredited registrar, we've set the post-expiration renewal period to 42 days.
During that time frame, the domain name will be redirected to the new page and its owner will be able to renew it at the regular price.
Once that period has expired, the domain will enter the so-called 'Redemption Grace Period'.
Then the page will be updated and the registrant will be able to redeem their domain at a much higher price, as per ICANN's RGP policy.
With the newly revamped page, we aim to encourage your customers to renew their domains on time so that they can avoid paying any additional fees.
This can help you cut down domain expiration rates and increase customer retention.
Originally published Friday, November 10th, 2017 at 3:27 pm, updated November 24, 2017 and is filed under Web Hosting Platform.
One Response to "Domain expiration pages have been re-designed"
kriya Says:
November 22nd, 2017 at 10:47 am

Good tactic to attract customers to renew the expeired domain. This expired domain renewal is only available with resellerplan or with every domain registrars.
Leave a Reply