The .IE registration policy has been liberalized and now you can register Ireland-targeted domains much easier!
A couple of months ago, we were happy to welcome the official top-level domain name for Ireland – .IE, 'aboard'.
.IE ranks among the safest TLDs in the world largely thanks to the consistent security policy and the stringent registration procedure imposed by its registry.
That said, the registration policy has been streamlined in order to allow registrants to lay hands on their preferred .IE domain names much quicker.
What is the new policy change all about?
The .IE registry has been continuously investing efforts in developing a verification policy that will give registrants the most efficient balance between security and ease of use.
The registry has taken an important step toward liberalizing the .IE registration requirements.
From now on, registrants will not need to present a 'claim to the name' when registering a new .IE domain.
They will still need to prove their connection to the island of Ireland and their identity when applying for an .IE domain, but will not need to explain the reasons behind their wish to register the domain in question.
Here are the key reasons why the .IE registry has liberalized their strict registration policy:
to make it faster and easier for applicants with real Irish connections to get an .IE domain;
to make .IE popular with Ireland's small and micro businesses;
to remove the 'claim' requirement for the sake of new start-up businesses wishing to launch a web presence before setting up a physical one;
to remove restrictions on domains that reflect a person's name, nickname, pen name;
The IEDR registry believes that this is the right time to remove the 'claim' requirement and let those with real Irish connections get any available .IE domain they want without any further delay.
While the new policy change greatly facilitates .IE registrants, it is good to know that the registration process will continue to place great emphasis on security and legitimate interest.

What does this mean for the .IE applicants themselves?
It's now easier than even to register an .IE domain. We are an IEDR-accredited registrar and as such were able to integrate the new streamlined .IE registration procedure on our end the moment it came into force.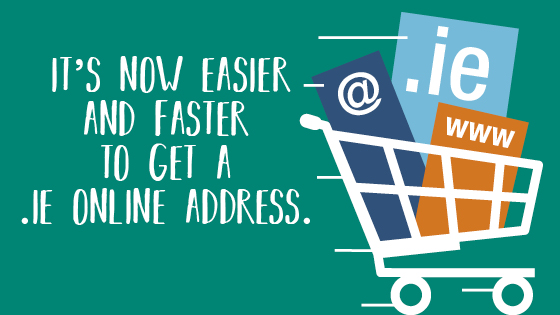 From now on, new customers will only need to send one document proving a connection to Ireland.
Returning customers can avail of Fastpass and do not need to re-submit any documents whatsoever.
Why register an .IE domain?
The .IE domain extension will instantly put an Irish 'halo' on your online presence.
Here's a list of some of the key benefits the .IE extension will bring to your Ireland-targeted site:
Guaranteed Irish connection – you'll be perceived of as being Irish, which will help you expand your online presence in Ireland;
Guaranteed trust – with an .IE domain, you will instill confidence in your visitors. Тhanks to the thorough  .IE domain registration procedure, your customers will know that you're legitimately connected to Ireland;
Guaranteed security – there are much less .IE domain-connected instances of cybercrime than with .COM, for example;
Higher search engine rankings – with an .IE domain, your site will appear higher in local search results, since search engines have confirmed that they favour ccTLD based sites;
Brand protection – figures show that thousands of .COM domain name disputes are filed each year, while the .IE ccTLD-connected claims are just a few;
Much higher availability – your preferred domain name is much more likely to be available under .IE than under any other overcrowded namespace;
Originally published Wednesday, March 21st, 2018 at 6:56 pm, updated March 22, 2018 and is filed under Domain Names.
Tags: domain reseller, ccTLDs
Leave a Reply