Will new TLDs become the norm anytime soon?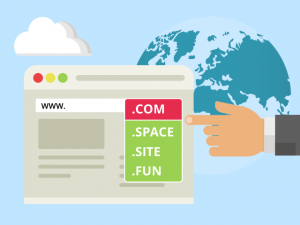 Bringing some fresh air to the market, new domain extensions have gained a real momentum in recent years.
Our partners at Radix – one of the largest nTLD registries (whom we have accreditation with), have made an overview of new gTLDs market trends based on the opinion of domain industry experts.
The latter focus is on the factors that challenge the adoption of nTLDs and the measures that should be taken to foster global recognition.
The following is our takeaway from this overview plus some highlights from our experience with new domain extensions.
What are new gTLDs about?
It all started back in October 2013 when the first set of new gTLDs was delegated in accordance with ICANN's New gTLD Program.
By encouraging the expansion of the domain name system, the New gTLD Program aims to enhance innovation, competition, and consumer choice.
The new set of TLDs was carefully selected by businesses, communities, and governments, and was aimed at solving specific problems on the market.
Up until this time, domain owners had a choice of only 22 generic and over-crowded TLDs at hand (.com, .net, etc.), which gave them slim chances of nailing down a short, memorable, and relevant web address for their sites.
What are the new gTLDs' key advantages?
Today, more than 5 years after the first new gTLDs delegations, domain owners can choose from more than 1200 new domain extensions for their websites.
Bringing a wealth of advantages to the market, new gTLDs are expected to settle in consumers' minds for a long time.
They are eye-catching, niche-relevant, and are often easier to acquire than the over-crowded legacy extensions like .COM or .NET, for example.
Here is what makes them so attractive in comparison to the classic extensions:
Variety – with more than 1200 new domain name extensions to choose from on the market, domain owners are presented with a wealth of sky-is-the-limit opportunities for naming their website(s).
Availability – the newly introduced TLD is just 5 years old, as compared to the 30-year old .COM TLD; hence, a domain owner is presented with a lot more opportunities to get a winning combination for their website than if they go with a .COM extension, for example;
Relevance – new TLDs empower domain owners to search for a domain name by niche, topic or target audience. This way, they can choose the one that is most relevant to their brand or message;  
Customization –  new TLDs allow domain owners to step outside the norm and customize the ending of their website address – an option not available back in the 'classic period'. They can fully synchronize their site with their online presence and not be limited to an all-purpose, neutral TLD;
Opportunities – new domain extensions offer individuals and businesses exciting new ways of communicating their brand and promoting their services to their target audiences;
What are the challenges with new gTLDs?
Undoubtedly, new gTLDs have become increasingly accepted worldwide.
There are a few factors, however, that could be slowing down adoption rates, as follows:
Psychological barriers – the human mind is set to accept "new" with criticism and caution until it has proven to be trustworthy and starts being recommended by others; with just 5 years on the market, it looks like new TLDs will need some more time to grow on users and become the new norm in their minds;
Insufficient public awareness – there is still a lack of awareness among the general public about the importance and variety of new TLDs; the majority of users still perceive classic TLDs as the norm and would rather select a neutral domain that is not fully relevant to their website than go for a TLD that could offer a 100% match for their online identity;
Oversaturation of choices – with more than 1200 new TLDs competing for their attention, users might get discouraged when trying to choose the "right" or most relevant extension for their specific online project;
Technical incompatibilities – as with any new technology, compatibility could be an issue. There are still some web apps and services, which do not recognize new TLDs as valid.
For this reason, ICANN has formed the Universal Acceptance Steering Group (uasg.tech), to encourage software engineers and website owners to update their systems accordingly to accept new TLDs.
Will new gTLDs become the norm anytime soon?
Despite the continuing predominance of classic TLDs in the consumer mindset, new TLDs have great potential for becoming the new norm in the foreseeable future.
Observing the user choice trends on our platform over the past few years, we've seen a growing preference for TLDs that work best for users' particular online presence over the classic TLD choices.
When registering a domain, a growing number of users seem to no longer distinguish between TLDs by the date of release (classic vs new TLDs).
They search by niche or topic, looking for the one that is most relevant to their brand or audience instead.
We've seen that small companies looking to start an online business are more likely now than ever before to choose an extension like .COMPANY, .SERVICES, or .DEALS than a classic extension.
A personal website owner in turn would prefer a .SPACE, .SITE or .FUN TLD over the established neutral extensions.
Looking at the age of domain buyers, industry experts (in the research article cited above) have found out that millennials – the generation with more enthusiasm to start up new online projects than the boomers, are more open to new TLDs.
And, as we may guess, the millennials' online initiatives are only going to grow in the near future.
Looking at the bigger picture, we can see that big corporations like Google are recognizing the potentialities of new TLD and are opting to register domains with new extensions in addition to classic ones.
From a technical point of view, search engines treat new TLDs the same as .COM with regards to SEO and indexing.
Social media giants like Facebook, Twitter and LinkedIn now recognize new TLDs as valid.
Major tech pioneers like Apple and Microsoft keep investing efforts in publicizing the need for global acceptance of new extensions.
All that combined with the ICANN UASG group's dedication to promoting a more open Internet, the widespread recognition of new gTLDs is not far away from turning into a reality.
What is the best way to market new TLDs?
The growing adoption of new TLDs in the market has made experts question the way they are labelled – should they still be regarded as "new" or in another, more user-friendly, relevant way.
Since the "relevance" and "customization" benefits of new TLDs now appeal to more and more users, experts think that it's much more viable to promote new TLDs as offering the best match for a user's website story instead of just being "new".
This will help bypass the psychological barrier in accepting "the new" among users (mentioned earlier in this post) and will allow for new TLDs to be globally accepted as the highly "relevant", "custom" alternatives to the overcrowded generic extensions.
There is still no consensus among industry experts on how new TLDs should be rebranded to better suit their specific purpose.
Some experts think nTLDs should be called "niche domains" while others predict that they will become popular enough to go into the pool of "generic domains."
It looks like making new TLDs a norm is largely dependent on the marketing efforts of all of us – offering domains on the market, to turn them into a first-choice website commodity.
It should be a responsibility of all of us to promote new TLDs in such an informative way that businesses, brands, and individuals could start thinking long-term and grab the most appropriate domain name for their specific needs.
By popularizing new TLDs ardently, we can all help them become universally recognized, so they could simply become 'TLDs', with no difference in treatment and no "ageing".
How to promote new TLDs on our platform?
On our reseller hosting platform, you can offer attractive first-year domain registration promotions to your customers, which cover some of the top-selling new TLDs as follows: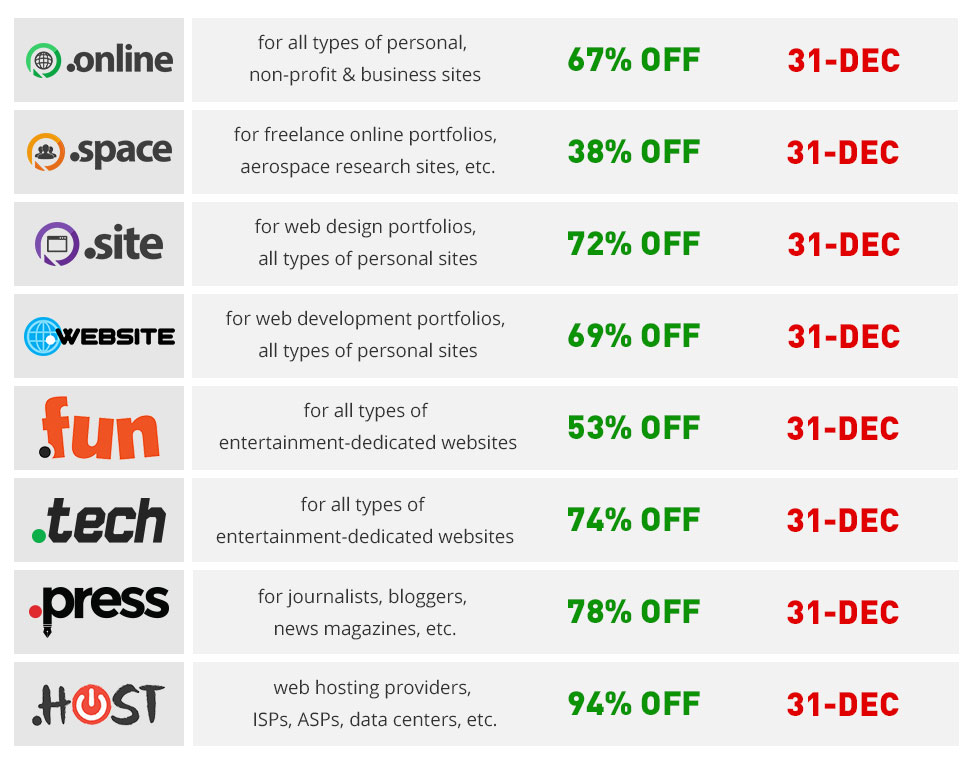 This empowers you to easily hook lots of new customers on to your domain registration and web hosting services and represents a great opportunity for you to popularise the importance of new TLDs across your target market.
All of those promotions are valid until December 31st, 2019 and you can enroll in any of them with a click from your Reseller Control Panel:
Originally published Friday, February 22nd, 2019 at 3:53 pm, updated February 25, 2019 and is filed under Domain Names.
Leave a Reply