54% OFF on .EU domain registrations throughout the whole of 2017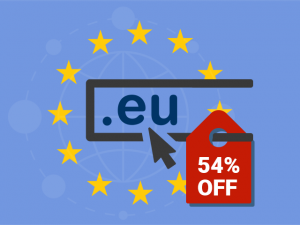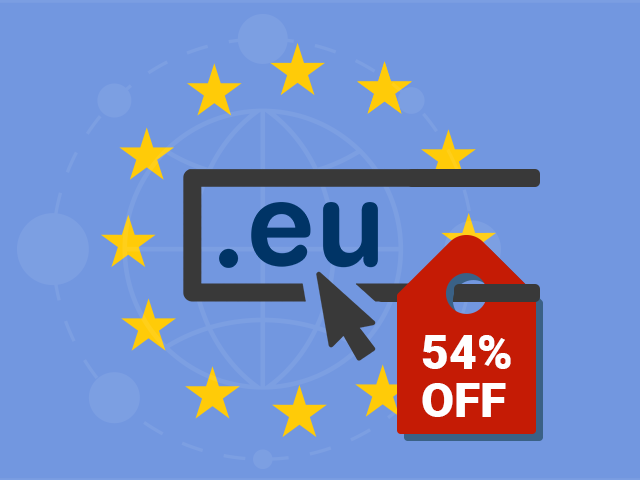 To get 2017 off to a good start, we are launching a year-long .EU domain name promotion.
As of today, you and your customers can enjoy a staggering 54% discount on the first year's .EU domain registration fee.
This is a great opportunity for any domain reseller who wishes to attract more customers from the European Union.
Why offer .EU domains on your store?
Consisting of 28 member states with an estimated population of 510 000 000+, the European Union is, indeed, a very large market. And while each member has its own country-specific TLD, if you wish to target multiple countries, a .EU domain name would be the perfect choice.
The .EU ccTLD itself was launched back in 2005. 12 years later, there are 4 000 000+ active .EU domain names, which makes it Europe's fourth most popular country-specific extension, right after .UK, .DE and .NL.
.EU domain name registration requirements
Any citizen of the .EU member states (plus Iceland, Liechtenstein and Norway) can freely register a .EU domain name for a period of 1-10 years.
There are no other special requirements for the registration of .EU domain names.
If a customer already has a .EU domain name registered somewhere else, they can transfer it to us using an EPP code.
How to enable the .EU promotion?
To enable the .EU promotion, go to the Domain Promotions section of the Reseller Control Panel and click on the enroll button:
If you have taken advantage of the TLD promo campaign auto-enrollment functionality, then you have already enabled the promotion. If you haven't, or if you are hearing about it for the very first time, go check it out. It will automatically enroll you in all active promotions, which will be immediately reflected on your reseller store without you having to do anything else.
NOTE: The new .EU promo price is valid for 1-year registrations only. Transfers are not included in the promotion.
Originally published Thursday, January 19th, 2017 at 4:17 pm, updated January 19, 2017 and is filed under Domain Names.
Tags: Domain Names, domain pricing, domain promotions, ccTLDs
Leave a Reply