A new TLD promo campaign auto-enrollment option is available
It's been a few months since a TLD promo functionality that lets you run flexible domain marketing campaigns on your stores was added to the Reseller Control Panel.
Since the number of promotions has grown over time, it has become hard for our partners to follow all expiring campaigns and enroll in new TLD offers on time.
For this reason, we've added an option that lets you enroll in all current and future campaigns automatically.
What is the new Auto-enroll option about?
When launched in January, the TLD promo functionality opened up a new marketing horizon on your stores, allowing you to enroll in new TLD campaigns with a click.
With more than 70 TLD extensions available for sale, however, keeping track of all the hot offers that come out has become a hard job over time.
The newly added Auto-enroll option is aimed at simplifying the enrollment process – you can now subscribe to all running and upcoming TLD promo campaigns with just one click.
By enabling the option, you will gain immediate access to all the attractive domain offers the minute they are enabled on our system.
How do I make use of the Auto-enroll option?
The Auto-enroll button is located in the top right corner of the TLD Promotions section under My Offers.

By clicking on the button, you will get enrolled in all the existing campaigns that you have not subscribed to yet and will auto-subscribe to all TLD promotions that will be launched on our system in the future.
If, at any moment, you decide to disable this option and revert to the manual TLD promo campaign subscription mode, then you should click on the same button again:
Why run regular TLD promotions?
TLD promotions hold a great marketing potential. You can run flexible, up-to-date domain campaigns on your store and up your chances of being noticed in the crowd.
In contrast to the free-domain-with-a-plan option where the number of TLDs is limited, the TLD promo campaign functionality allows you to set supercool registration prices for a number of attractive domain extensions periodically.
The domain promotions cover a great variety of extensions – from popular country-code domains like .IN and .WS, to some of the hottest nTLDs (new top-level domain names) on the market like .SITE, .TOP and .NEWS.
Here is a list of the TLD promotions that you can enroll now with a click of the mouse from your Reseller Control Panel: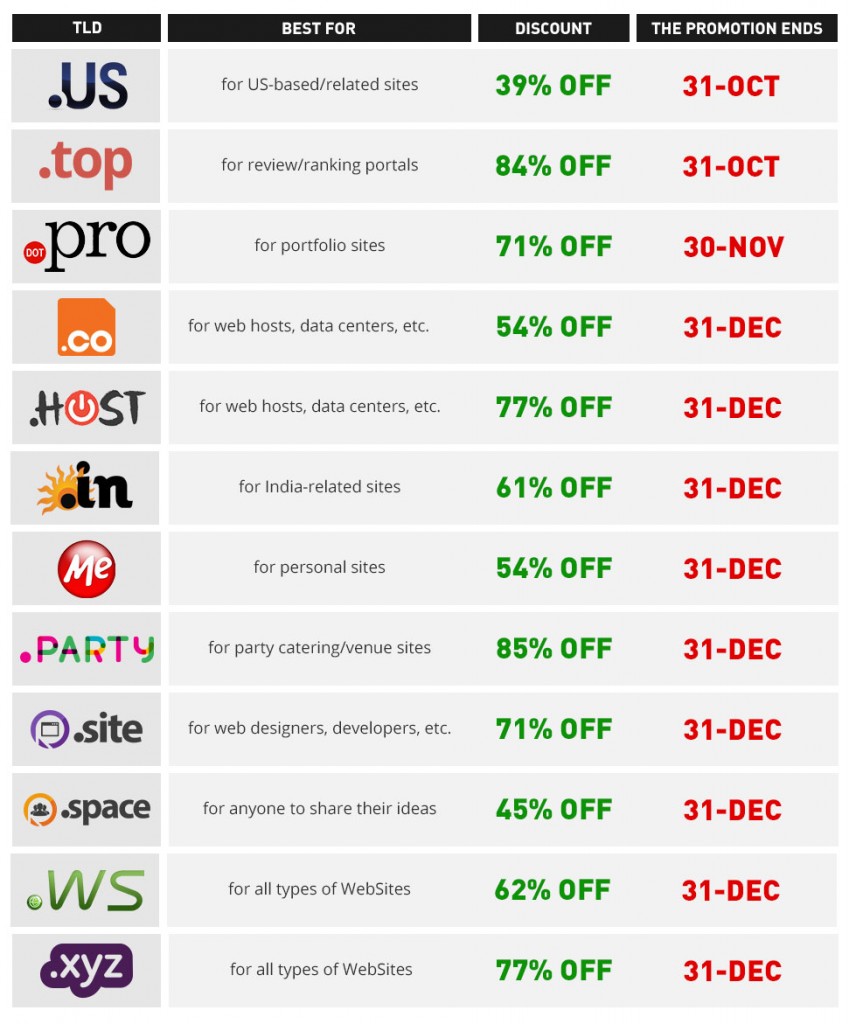 We'll keep adding new TLD promo campaigns on a regular basis, so stay tuned for more new attractive domain offers for your stores.
Originally published Friday, October 28th, 2016 at 3:34 pm, updated October 28, 2016 and is filed under Domain Names.
Tags: Domain Names, nTLDs, domain promotions
2 Responses to "A new TLD promo campaign auto-enrollment option is available"
Monique Van Hooreweder Says:
October 31st, 2016 at 9:02 am

You mention ".host" in the list with propotions but I don't find it in the select as TLD choice.

resellerspanel Says:
October 31st, 2016 at 10:52 am

Hello, you'll need to enable the .HOST extension first. Just go to My Offers -> Domain Offers, scroll down to .HOST in the table and click on the bulb icon on the right.
Leave a Reply