54% OFF on .EU domain registrations till the end of 2016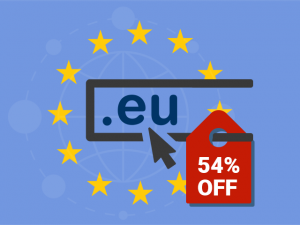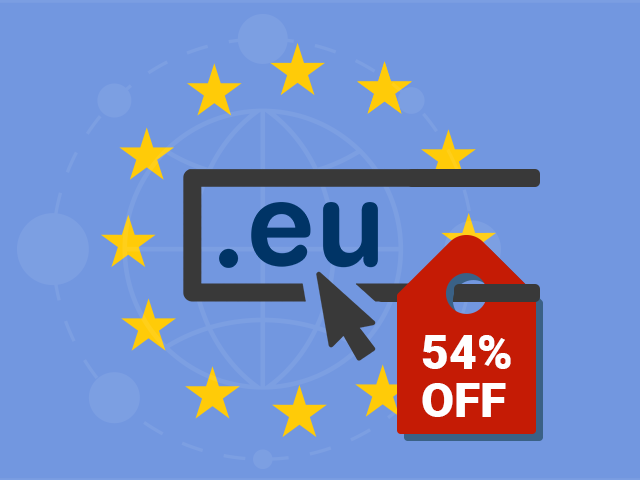 One of the most sought-after domain extensions on our platform – .EU, now comes with a special promotional price, which is valid until the end of 2016.
Starting today, you and your customers can make use of a great discount on the fee for the first year of registration.
If you target customers who are located in the European Union or are doing business there, make sure you give them the best price on the market.
What makes .EU a popular domain extension?
.EU represents the European Union – a politico-economic alliance that consists of 28 member states with an estimated population of over 510 million.
The EU's greatest achievement is the development of a single internal market where people, goods, services and capital can move freely irrespective of political and economic boundaries.
The EU maintains common policies on trade, agriculture, fisheries and regional development so as to allow companies to easily expand their reach.
According to EURid – the entity, which oversees .EU domains, one has 3 major reasons to choose .EU over generic extensions like .CO and .COM or concrete country-code extensions like .BE and .FR: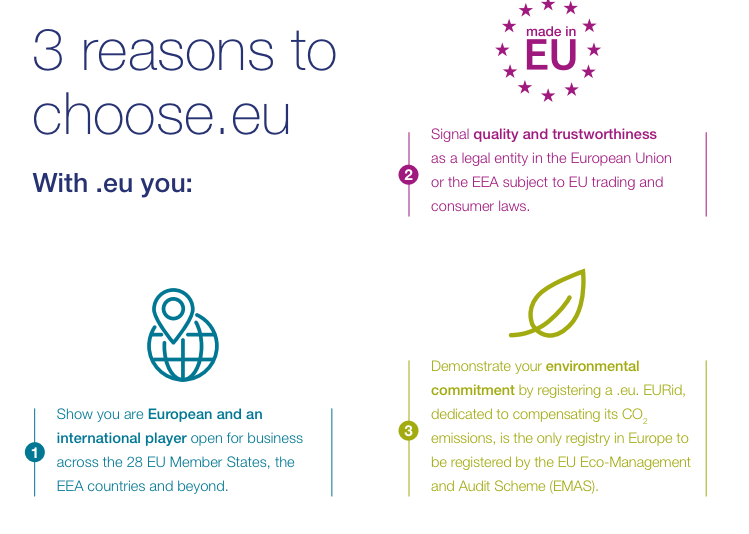 Historically speaking, the .EU extension was launched back in 2005 (12 years after the European Union's formal establishment) in response to the rising need for the internal European market's online representation.
Just a few months after .EU was made available for registration by EU-based entities, there were already 2 million active .EU domains.
Today, there are almost 4 million active .EU domains, which puts .EU among the top 5 ccTLDs in Europe, right after .UK, .DE and .NL.
Why offer .EU domains on your store?
The European Union encompasses 31 countries with a combined total population of more than 500 million.
With a .EU domain, each company, non-profit organization or individual within this huge market will share one common online identity.
The .EU extension allows you to target a large customer base and contribute to the distribution of European values such as solidarity and free trade.
.EU registration requirements
.EU is open for registration to any organisation or individual in the EU member states, including Iceland, Liechtenstein and Norway.
The registration period is 1-10 years.
If you have a domain registered somewhere else, you can transfer it over to our platform with the help of an EPP code. An Edit Whois option is supported as well.
How to manage .EU promotions?
You can enroll in the .EU promotion from the Domain Promotions section of your Reseller Control Panel:
If you have already enabled the recently introduced TLD promo campaign auto-enrollment option, then you are already subscribed to all running and upcoming .EU promo campaigns.
The new promo price is valid for all .EU domains purchased individually from your store (with the Domain Manager plan) or as upgrades from your Web Hosting Control Panel.
While the promotion is running, you can still make use of the free .EU registration/transfer option that is applicable to web hosting package purchases.
NOTE: The new .EU promo price is valid for 1-year registrations only. Transfers are not included in the promotion.
Originally published Friday, November 4th, 2016 at 4:21 pm, updated November 4, 2016 and is filed under Domain Names.
Tags: Domain Names, domain pricing, domain promotions, ccTLDs
Leave a Reply