The .FUN TLD has debuted on our platform with a great promo offer
The entertainment industry's 'official' top-level domain name – .FUN, has debuted on our platform!
If you want to create a comedy blog or are running a kids' party center, for example, this is the perfect domain extension for you.
Learn more about the benefits of offering .FUN domains on your store and see how you can make use of our attractive .FUN promotion.
Some '.FUNstory'
.FUN was launched less than a year ago – on April 1, 2017. Its supervision was entrusted to DotSpace Inc. (Radix) – a well-established domain registry with which we have an accreditation agreement.
The .FUN extension can be used by entities that create funny and amusing content.
The main advantage of .FUN over .PARTY – an already established entertainment-dedicated TLD, is that it appeals to a wider audience.
In only 11 months, .FUN has scored more than 77 000 registrations, which fully substantiates the demand for such a TLD.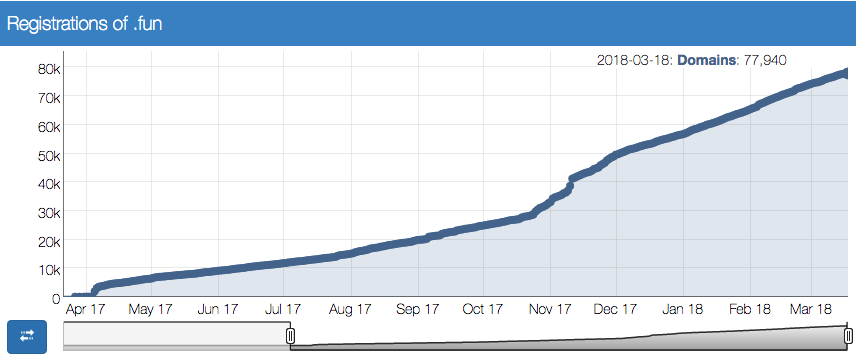 Why choose .FUN for your site?
More and more users surf the web just for… fun! There are millions of people who are using the Internet to visit their favourite comedy channel, to watch the latest video featuring funny cats or to play their favourite online game.
Now entertainment sites have a dedicated namespace that will tell visitors exactly what they are about.
If you want your site to be fully 'legitimate' on the entertainment scene, then you should not miss out on registering a .FUN domain name for your site.
Here are some potential applications of the .FUN extension:
Bloggers – bloggers who publish entertaining content can stand out in the blogosphere with a relevant domain extension;
Amusement parks – amusement parks, arcades and other entertainment facilities can use .FUN to brand their activities online;
Comedy shows – comedy shows and acts can use this relevant domain to stand out from their competition;
Children's sites – children's animation sites can appeal to younger audiences with a relevant domain extension;
Gaming sites – the .FUN TLD is ideal for your games, memes, joke or puzzle sites, as well as for anything else you do that brings on the good times;
Entertainment industries – travel agencies, sports channels and event management companies can use .FUN to add an extra entertaining touch to their sites;
Businesses – businesses can use this recognizable domain extension to propagate their fun events, services or employee perks;
.FUN registrations details
Registering and managing a .FUN domain name is as easy as registering and managing a .COM, .NET or .ORG domain.
It is open for registration to anyone for a period of 1-10 years.
The registration process is quick and simple. There are no specific requirements to follow.
If you have a .FUN domain registered with another registrar, you can transfer it over to us at the same price.
An EPP key will be required for the transfer procedure to complete successfully.
How to activate the .FUN domain extension on your store?
.FUN is enabled by default on your store. If you haven't made changes to the TLD order for your store, the new TLD will be listed next to .PARTY.
If you have modified the original TLD order, however, .FUN will be placed at the bottom of the TLD table under Domain Prices.
You can now enable .FUN on your store and choose its best position from a marketing point of view:
.FUN promotion details
As per our accreditation agreement with Radix, we can now offer a long-term promotion on the 1-year .FUN domain registrations.
You can enroll in it from your Reseller Control Panel:
If you've already selected the option to enroll in the new promo campaigns automatically, then the current .FUN promotion is already running on your store.
All you will need to do is update your retail price in accordance with your overall marketing strategy.
Originally published Friday, March 16th, 2018 at 5:15 pm, updated March 19, 2018 and is filed under Domain Names.
Tags: domain extensions, nTLDs, domain promotions
Leave a Reply