The .PRESS domain extension has joined our nTLD portfolio
The so-called nTLDs have brought in a new domain registration era. The 'COMmunicable' .COM fever has now given way to a wide variety of new site name endings that target specific industries and interests.
One of these nTLDs – .PRESS, is designed to be a dedicated namespace for both journalists and editors.
You can now find the extension on our platform as well – read further below to learn more about its marketing powers and to see how you can enroll in our new super-cool .PRESS promo campaign.
Some '.PRESSistory'
.PRESS was added to the Root Zone on 31 May, 2014, as part of ICANN's New gTLD Program. The registry rights were assigned to Radix (DotPress Inc.).
The official launch itself was preceded by a survey among journalists around the world who ascertained the high demand for such an extension.
In just 4 years, the number of registered .PRESS domain names soared to 72 000, which fully justifies the effort behind the namespace's launch.

The .PRESS domain registrants themselves come from 127 different countries. This can be explained by the universal value of .PRESS and by the fact that it is easily translatable across various languages.
Currently, there are almost 6 000 active .PRESS-powered websites.
Another survey conducted by Redix has shown that 95% of the abovementioned sites are used by journalists and bloggers, which further cements .PRESS's image as the namespace of the digital journalism.
Why register a .PRESS domain?
The digital press has empowered journalists to tell their stories with greater impact than ever before.
However, the appearance of websites that disseminate fake content with the aim of gaining traffic has undermined the image of the online press as a whole.
The introduction of the .PRESS extension came right on time to legitimize the work of real journalists and to promote genuine news and editorial content.
.PRESS targets a wide range of free press-supporting content creators – from journalists and bloggers to news portals and publishers: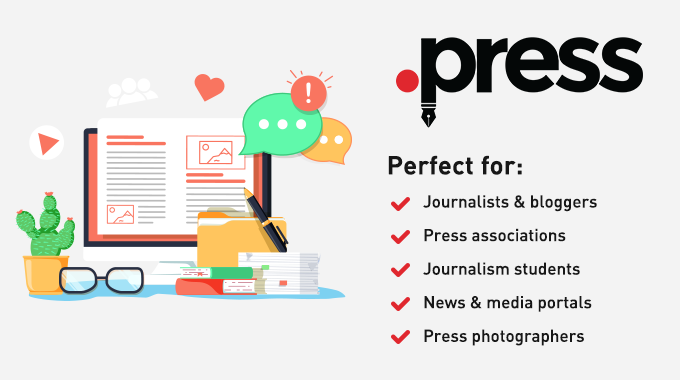 Here are some of the most noteworthy selling points of .PRESS:
Publicity – whether you're sharing news or your own personal opinion, .PRESS will give you a tribune to voice yourself online.
A great tribune for bloggers – bloggers can leverage the editorial promise and universal reach of the .PRESS extension, regardless of whether they're working on their own project or on somebody else's website. Newspaper employees can do likewise as well.
А media tribune for your corporate web presence – companies can use their .PRESS-powered site as a dedicated space for their PR initiatives or media announcements.
Higher search engine rankings – if you produce editorial or news content and have a .PRESS domain, Google will rightly assume that you are a journalist and will give priority to your site in its SERPs when relevant.
Adds value to your existing site – journalists can register a .PRESS domain and use it to redirect visitors to their existing site (if they have one) or to their social media account, for instance.
.PRESS registration details
.PRESS is open for registration to anyone for a period of 1-10 years.
The registration process is quick and simple.
There are no specific requirements to follow. If you have a .PRESS domain registered with another registrar, you can transfer it over to us at the same price.
An EPP key will be required for the transfer procedure to complete successfully.
How to activate the .PRESS domain extension on your store?
.PRESS is enabled by default on your store. If you haven't made changes to the TLD order for your store, the new TLD will be listed next to .NEWS:
If you have modified the original TLD order, however, .PRESS will be placed at the bottom of the TLD table under Domain Prices. You can now enable .PRESS on your store and choose its best position from a marketing point of view:
.PRESS promotion details
As per our accreditation agreement with Radix, we can now offer a long-term promotion on the 1-year .PRESS domain registrations. You can enroll in it from your Reseller Control Panel:
If you've already selected the option to enroll in the new promo campaigns automatically, then the current .PRESS promotion is already running on your store.
All you will need to do is update your retail price in accordance with your overall marketing strategy.
Originally published Friday, March 9th, 2018 at 4:55 pm, updated March 9, 2018 and is filed under Domain Names.
Tags: domain registration, domain reseller, domain promotions
Leave a Reply