A new domain registry partnership to unlock lower prices and more new TLDs in your portfolio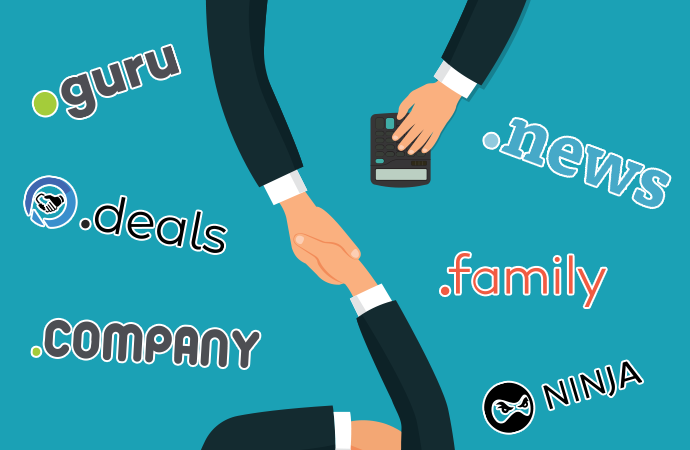 We are glad to inform you that we've established a partnership with one of the biggest players on the domain name market – Donuts.
Thanks to this partnership, we'll now be able to offer some of the top trending and new TLDs on the market such as .SOLUTIONS and .COMPANY directly from the registry.
This will allow us to offer great, long-term prices and run various attractive promo campaigns to support your marketing efforts.
А quick overview of the new registry partner

Donuts, the registry we have obtained accreditation with, appeared on the domain market scene 8 years ago with a daring mission – to break the 25-year monopoly of .COMs.

According to Daniel Schindler, the back-then co-founder of Donuts Inc., .COM is a generic legacy TLD that wouldn't have any success at all if released today – due to the variety of meaningful TLDs on the market.

That motivated his company to invest $58 million into registering more than 300 new TLDs. Overnight this turned them into the world's largest registry at the time.

Today, Donuts is the global leader in providing relevant, high-quality, top-level domains which offer variety and choice to enable you to easily manage and amplify your digital identity.
It keeps playing a key role in popularizing new TLDs and turning them into a desired choice among registrants worldwide.

The registry manages a large portfolio of new, top level domains including some of the most trendy nTLDs such as .GURU, .NEWS and .FAMILY
Currently, 39 of the 100 most popular new TLDs, according to the official nTLD stats page, are Donuts TLDs.
The benefits of the new partnership

Thanks to our new partnership with Donuts, we'll now be able to offer a few marketing advantages for your stores.
New lower prices for Donuts TLDs
We already have a few Donuts TLDs featured in (y)our portfolio such as .NINJA, .SERVICES, .SOLUTIONS, .FAMILY and .DEALS.
So far, we've been providing these TLDs via a 3rd party company. Thanks to the new partnership, we'll be now able to offer them directly via the registry channel.

This has allowed us to avoid the price increase initiated by the 3rd party partner mentioned above and to negotiate even lower prices for some of these TLDs as shown in the table below:
If you offer any of these domain extensions in your store, we'd advise you to log into your reseller dashboard and adjust the retail pricing in accordance with your marketing strategy.
Attractive domain promotions

As a valued, accredited partner, we'll have the opportunity to enrol in various promo campaigns throughout the year.

As with the other attractive promotions already running via other partnerships, you'll be able to offer 1st year registrations across popular TLDs at cool prices and drive more new customers to your store.
Keep an eye on our blog for forthcoming promotions on Donuts TLDs.
A large domain portfolio
As mentioned earlier, the Donuts registry manages a large portfolio of hundreds of new TLDs.
This means we'll be able to add more new and attractive extensions to the list of Donuts TLDs already included in the domain portfolio.
We'll start with the most popular of them alongside TLDs that you or your customers have already asked to be included in your domain offerings through the various communication channels you have with us.

So make sure to check our blog for more news on the matter in the near future.
Not a member of our free reseller hosting program yet? You can sign up for free now!
Originally published Friday, January 24th, 2020 at 12:08 pm, updated January 30, 2020 and is filed under Web Hosting Platform, Domain Names.
Tags: domain registration, domain reseller, tld extensions, nTLDs, domain promotions, new domain extensions
Leave a Reply