3 clever tactics to use new domain extensions to build a memorable brand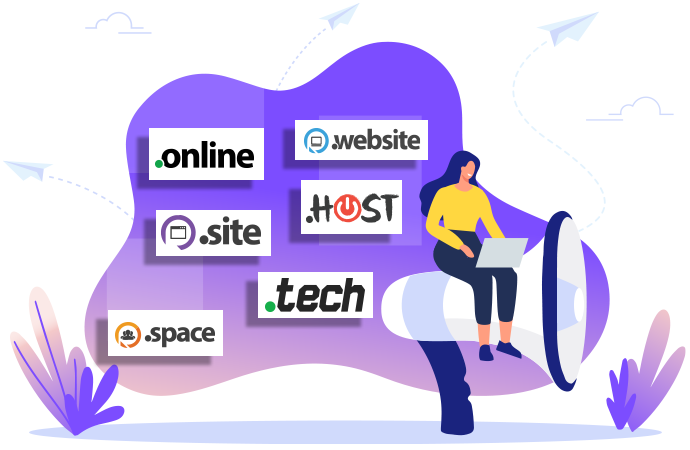 Today we are happy to present another domains-inspired guest post from Alisha Shibli from Radix – the registry behind some of the most successful new TLDs (including .SITE, .SPACE and .ONLINE.), whom we have accreditation with.
The digitalization of everything from conducting business to pursuing passion projects has made it much easier for organizations, companies, and people to create online brands for themselves.
However, this ease brings the challenge of making your voice heard amidst the noise.
While overarching branding efforts such as marketing campaigns and paid ads cannot be ignored, the secret to standing out from the clutter lies in paying attention to the little details.
One such detail that is often overlooked, but holds immense branding potential, is the domain name.
Strategic benefits of a domain name
Here are a few ways your domain name can help you build a great online brand.
A contextually-relevant and definitive domain name can clearly indicate to users what your brand or business is about.
For instance, it becomes extremely easy for people to guess what a website might be about when they come across domain names such as www.lindadraws.online or www.linenlove.store.
Increases brand recall value
By using domain names bearing your company's name, you can further improve your brand's positioning and help people better identify your website with your brand name.
For instance, one of the top airlines, Emirates uses www.emirates.com as its commercial website and www.emirates.store for its merchandise website.
Maximizes digital marketing impact
By using branded links in your online promotions, you can maximize their legitimacy while also showcasing your creativity.
For instance, if you are an art studio organizing a tattoo festival called Get Inked, you can share content on social using branded links such as artstudio.space/getinked.
These unique, relevant and meaningful domain names are easy and inexpensive to create on new industry-specific domain extensions such as .TECH and .ONLINE.
Using them in your company website, campaign pages, digital ads, offline event collaterals and social media posts can make your links more memorable and brandable.
Benefits of using new domain extensions
Here are a few benefits of using new domain extensions for your business.
Create brands out of individual products
Have a new, game-changing product or service that you are looking to promote? You can use a domain name to give that product its own unique web identity and minimize the probability of it getting lost in the clutter.
Let's assume that you are a graphic t-shirt company that goes by the name of GraphicTee. You are now venturing into pants bearing your most popular graphic prints.
To promote the new range of pants, you can use a domain name such as www.graphicpants.online or www.graphicpants.store.
Create better-targeted campaigns
A campaign with its own web address comes across as more legitimate and also makes it easier for you to redirect people to it from other sources.
With new domain extensions, you can create memorable campaign domain names that could include your company name, the campaign purpose or even a creative call to action.
For instance, if you are a small kombucha-making company called Tasty Kombucha and are creating a free giveaway of your new kombucha flavor (ginger), you have a number of branding opportunities.
You could simply include your company and product name in your domain name such as www.tastykombucha.online/ginger or you could create a unique domain name such as www.getfreekombucha.site.
These links would seem more enticing to users and encourage them to visit the website to register for their free giveaway. They will also seem less spammy and more indicative of what you're offering while associating the product with your brand.
This will also help you track the progress of specific marketing campaigns and learn about what works best for your audience and your brand.
Improve branding on social media
Social media pages are full of links that come across as cryptic and hold no meaning. These are usually clunky links with random combinations of letters, numbers and special characters such as bit.ly/nnG65T.
Now let's say that you are a dog clothing brand called Mutters and you're coming out with a new line of dog sweaters.
You are promoting this line on your social media handles and directing people to the page on your brand website that showcases the sweaters.
Consider these two links:
⦁ bit.ly/asdfgh
⦁ mutters.store/sweaters
Which of the three are you more likely to click on?
The second link clearly communicates what you can expect when you click on it.
It also draws attention to the brand name and the product and strengthens the association between the two.
Through new domain extensions, you can create branded links for your social media promotions as well as offline promotions during events and popups as these links are also easier to remember.
Earn top-quality backlinks
Backlinks are one of the most authentic ways of driving organic traffic to your website.
Receiving backlinks on authority websites makes your own website come across as more credible to search engines.
One of the key aspects that improve the credibility of the backlink is when the keywords in the anchor text match the keywords on the link.
When the text of the linked URL matches with the anchor text, it sends a positive signal to search engines regarding the relevance of your website to that content.
This can greatly enhance your website's SEO and new domain extensions provide the perfect opportunity to capitalize on this tactic.
Consider the following example – you are a real estate agency mentioned in an article on buying luxury apartments.
If your domain name is www.luxuryapartment.site and the anchor text for it in the article is "buy a luxury home", it will add to the credibility of your website and encourage search engines to send more traffic your way.

***
In the competitive online world where every little move counts, picking the right domain name is a branding opportunity that cannot and should not be missed.
Using new domain extensions to create memorable links can truly boost your brand and help you make the most of your promotion activities.
Originally published Friday, August 7th, 2020 at 2:00 pm, updated August 10, 2020 and is filed under Domain Names.
Tags: nTLDs, new domain extensions
Leave a Reply