Get ready for the Black Friday – Cyber Monday weekend: exclusive server deals and proven marketing tactics to boost your sales
There's more to Black Friday than just savings for shoppers. It's also a golden opportunity for small businesses to grow by boosting sales and fostering customer loyalty.
In advance of the Black Friday Cyber Monday event, we have put together a number of promotions you can use as a basis for your reseller hosting marketing campaigns.
On November 20th, we launched exciting deals designed to help your brand stand out in a crowded advertising landscape during this busy shopping season.
Listed below are the service promotions that you can promote in your stores using the Black Friday-Cyber Monday slogan.
They are all aimed at allowing you to secure a long-term contract with your customers for otherwise monthly services.
67% OFF on the Semi-dedicated 1 server for 6 months
The Semi-dedicated 1 server package is now available at just $5.00/mo (wholesale) if purchased for 6 months.

This offer is a great chance for existing customers who are currently on a regular shared hosting plan to enhance their service to a more abundant and cost-effective option.
Additionally, it presents exceptional value for potential customers in search of a fantastic shared hosting package for their resource-demanding websites.
Up to 67% OFF on KVM Servers for 12 months
Our range of KVM VPS servers is an excellent option for individuals in search of an affordable yet high-performing solution for their expanding websites and applications.
The top-selling setups, namely KVM 2 and KVM 4, are available at a special price for a duration of 12 months, offering you a great chance to enhance customer retention rates among both new and existing clients: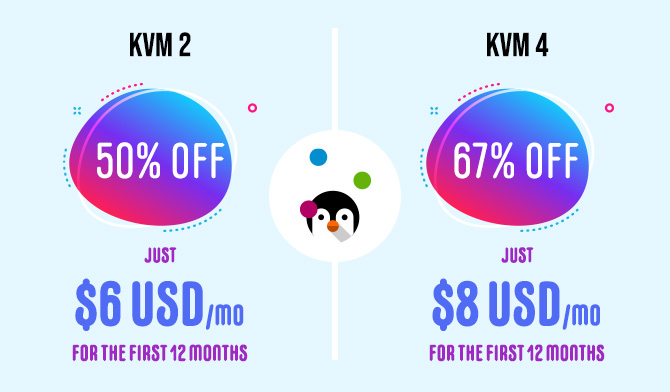 Up to 56% OFF on OpenVZ Servers for 12 months
Our OpenVZ VPS plans are specifically crafted to provide optimal security and performance, while also being flexible enough to adapt to the evolving needs of businesses.
With our discounted OVZ2 and OVZ3 options, available for a 12-month period, you can take advantage of a growing market and entice both new and existing customers with an unbeatable deal that will ensure long-term partnerships:
NOTE: After the 12-month promotional offer ends, both the KVM and OpenVZ plans will operate on a monthly payment cycle.
How to make use of the upcoming BFCM deals?
To take advantage of the upcoming Black Friday – Cyber Monday deals for your stores, you will need to first enroll in the respective promotion from your Reseller Control Panel.
If you are using the standard reseller dashboard, you will be able to access the new promotions through the Active Promotions link located in the header section:
For those who are already familiarizing themselves with the beta variant of the updated dashboard, the new promotions can be found on the homepage, specifically within the Promotions section.

A special offer for cPanel resellers – 50% OFF on the Unlimited 1 plan
If you're interested in trying out cPanel reseller hosting, you will have the opportunity to do so at a discounted rate!
With our new Black Friday promotion (promo code bf2023), you will be able to get a 12-month subscription for half the regular monthly price.
Boost your Black Friday marketing with some proven strategies
The key to standing out among the Black Friday advertisements is planning a marketing strategy.
But don't let the daunting task of creating your Black Friday marketing strategy overwhelm you. It's actually easier than you might think to make a mark during this busy sales weekend.
Here are some proven and tested marketing strategies to consider for the Black Friday – Cyber Monday weekend:
Promote your sales in advance via social media
Using social media platforms is an effective strategy for marketing your Black Friday sale to bargain hunters and addressing any queries your customers may have.
One approach is to generate excitement for your sales by providing sneak peeks of exclusive deals on your social media feed.
To further enhance the anticipation and attract more customers to your stores on Black Friday, incorporate countdown timers and engaging content in your posts.
Use hashtags to reach new audiences
Black Friday presents a chance for you to expand your reach on social media platforms.
Using hashtags like #blackfridayshopping or #blackfridaydeals allows you to engage with individuals who have an interest in Black Friday discounts and guide them toward your offerings.
Try selling directly via the social shopping feature
During the Black Friday-Cyber Monday weekend, people will be actively seeking out discounts and special offers on social media.
By connecting your online stores with platforms like Instagram and Facebook, you will allow customers to buy directly from your feed, making the shopping experience easier and faster.
Run a Black Friday email marketing campaign
Who doesn't enjoy getting special offers and bargains delivered to their email every day? Plus, email is a highly effective marketing tool for holiday sales.
Well-known email marketing platforms provide a range of free templates for Black Friday and other festive occasions.
These templates are simple to set up and enable you to create a comprehensive Black Friday campaign. It is recommended to send the promotional email five days prior to Black Friday.
Subsequently, you can conveniently schedule another email to remind your audience about your promotion in the following days.
Create a Black Friday email list
If you don't have enough customer contacts yet, it's important to begin collecting them as soon as possible.
One effective method is to run a Facebook advertisement that encourages individuals to join your mailing list. It's crucial to make the offer appear exclusive and time-sensitive.
By offering something to potential subscribers before anyone else, they are more likely to sign up. Black Friday shoppers understand the importance of acting quickly and not hesitating, as they may miss out on purchasing what they need.
Create a sense of urgency to boost Black Friday sales
Providing discounts isn't enough to get customers to buy. To maximize sales, you should encourage them to rush to your store and take action.
By providing time-limited discounts customers will feel driven to make the most of your Black Friday deals before they disappear.
An email that stands out and creates a sense of urgency is more likely to be noticed in a crowded Black Friday inbox, for example.
Consider including time-sensitive keywords like now, today only, final sale, or last chance in your marketing email subject lines to increase the open rate.
Also, use colors that contrast with the dominant color of your website, such as bright red or orange on a monochrome site.
***
When it comes to marketing strategies for Black Friday, there is no universal solution that fits every situation. It is important to understand your customers and determine what approach will be most effective for them.
However, by taking advantage of the special offers beginning on November 20th and implementing the proven strategies mentioned earlier, you will be well-equipped to execute a successful Black Friday to Cyber Monday marketing campaign.
Originally published Thursday, November 16th, 2023 at 2:58 pm, updated November 23, 2023 and is filed under Marketing.
Leave a Reply