Extended promotions for .US and .WEBSITE, exclusive discounts on .CO, .ME and .XYZ TLDs
In tune with the spring season, we're introducing a bunch of fresh domain promotions.
You can now please both prospects and existing customers with supercool prices for some of the most popular domain extensions on the web.
The promotions apply to first-time registrations only and are valid for fixed periods, so you can create a sense of urgency in your campaigns.
.US and .WEBSITE with extended promo periods
The promo period for the two extensions ended at the end of April, but the official registries decided to extend it a bit:

The .US extension is among the most popular country-code TLDs on the planet. It is less saturated than most generic domains and offers excellent opportunities for both businesses and individuals.
.US enables United States-based businesses, both local and international, to append a 'Buy American' halo to their online identity. For individuals, .US is a great opportunity to tell their American-style stories through their blogs or community boards.
To get inspiration when promoting .US, take a look at this catchy, Neustar-compiled list of the benefits of registering a .US domain:
The .WEBSITE extension, currently ranked #19 on the official nTLD registration chart, was launched just two years ago, but quickly gained popularity as a great generic alternative for all types of sites due to its universal nature.
Also, .WEBSITE is an excellent choice for the portfolio sites of both web designers and web developers.
This nTLD extension will be on promotion until the end of May, so hurry up and enable it on your stores.
Exclusive promotions for the .XYZ, .CO and .ME TLDs
Currently, .XYZ is the most popular nTLD and the sixth most registered domain on the planet (as of January 2016). For just 2 years, there have been almost 3,000,000 .XYZ registrations.
The main mission of .XYZ is to unite Generations X, Y and Z by offering them an innovative global namespace.
The .XYZ registry CentralNIC has made a nice infographic slider on their site to visualize the key advantages of .XYZ:
When released to the global public 6 years ago, .CO – the official ccTLD for Colombia opened the door to a new era of namespace innovation.
Thanks to its association with the words 'company' and 'commerce', .CO was quickly recognized as the new hot alternative to the overcrowded .COM namespace.
Also, .CO has become increasingly popular among tech startups. Stats show that hundreds of thousands of entrepreneurs and startups prefer .CO for their business presence, among them high-profile organizations like Up Global (Up.co) and Common Bond (CommonBond.co).
Not to mention established brands like Twitter (t.co), Google Inc.(g.co) and Amazon.com (a.co), which have chosen the extension for their social and mobile media presence.
In January 2016, Neustar – the official .CO registry, announced that .CO had just hit 2 million domains.: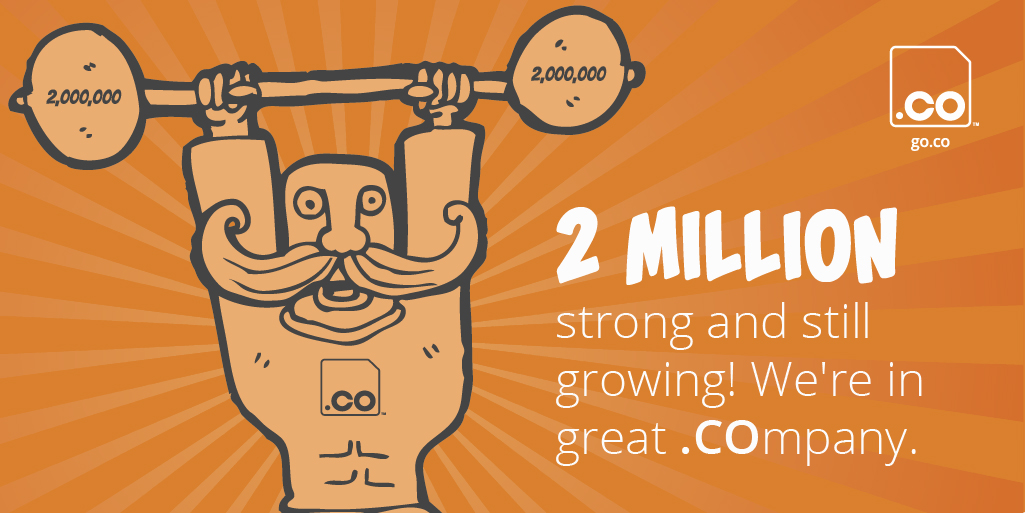 Here is a nice video overview of .CO, which you could share with your customers:
Launched as a country-code extension for Montenegro, the .ME domain extension quickly became identified as a perfect ending for personal sites and the official .ME registry dotMEn released it for open registration accordingly.
Results are impressive. Since its launch in 2008, .ME has had a steady growth rate, which in turn has lead to a total of 1 million registrations.
Here is a list of the top 5 reasons why .ME is worth registering:
How to enable the new TLD promotions on your stores?
You can enroll in the TLD promotions you like with a click from the Domain Promotions area of your Reseller Control Panel:

Apart from the new promotions, you can also find running promotions for .SITE, .PRO, .TOP, .IN and .WS.
Originally published Friday, May 6th, 2016 at 6:46 pm, updated June 9, 2016 and is filed under Domain Names.
Tags: Domain Names, nTLDs, domain promotions, ccTLDs
Leave a Reply