.STORE – the perfect namespace for your e-store, has premiered on our platform
One of the newest and most highly anticipated domain extensions – .STORE, has just debuted on our platform.
The new web address for e-commerce sites is concise, appealing and, most of all, indicative that you have something to sell.
Learn more about the benefits of offering .STORE domain names on your store and see how you can enroll in the attractive ongoing .STORE promotion.
Some 'hiSTOREy'
The .STORE domain extension was officially launched just a couple of years ago – in February 2016, as part of ICANN's New gTLD Program.
Considering its great e-commerce potential, there was a fierce competition between the companies that wanted to gain .STORE namespace management rights (among them were Google and Amazon).
Finally, these rights were delegated to Radix – the company that also stands behind other killer nTLDs like .SITE, .WEBSITE, .SPACE and .ONLINE.
The launch of .STORE was indeed an eagerly anticipated event – 10 000 domains were registered in the first 10 minutes alone. By the end of its debut day, this number soared to 25 000.
All in all, more than 120 000 .STORE domains have been registered so far, which is a true record for a new gTLD.
Why register a .STORE domain?
.STORE represents a recognizable and reliable namespace for any business looking to enhance their online presence.
As its very name suggests, the extension is especially suitable for online stores.
This, in turn, makes it a preferred choice over the overcrowded .COM namespace, for example.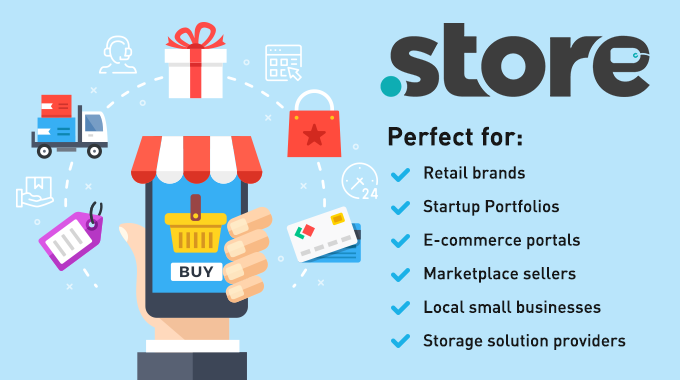 Here are just a few of the key reasons why you should choose the .STORE extension for your online store:
Your .STORE-ending web address will inform your potential customers that you are ready to serve their orders.
Offers more catchy options than .COM does
Being just 2 years old, .STORE is still an uncrowded namespace where the likeliness of getting your most desired domain is much higher than with other commercial extensions like .COM or .CO.
A great extension for your offline shop
.STORE represents a great 'springboard' for any brick-and-mortar business. No matter how small it may seem, each offline shop has a greater chance of growing big with an online presence namely under .STORE. The latter will help them expand their reach and increase their customer base.
Can serve as a second address for your e-shop
If you are already selling goods or services online under another namespace, you can use .STORE as a second web address and take your customers straight to the shopping section of your website. This is a great way to open more doors to your business and to increase your chances of prospects finding you.
Also, the .STORE extension gives you the opportunity to highlight the checkout pages of websites offering merchandise as a side service.
Allows you to brand your marketplace profile
If you have a profile in any of the popular e-commerce platforms like Etsy or Amazon, you can register a .STORE domain to craft a memorable address for your storefront. This will make it much easier for visitors to find your page and remember its URL.
Offers automatic recognition for your digital storage business
A natural choice for any vendor offering server storage services, the .STORE extension will also befit sellers of hard drives, hosting companies, warehouse space providers, etc.
Excellent for retail store reviewers
The .STORE namespace is also excellent for writers and bloggers who specialize in reviewing retail shops and outlets.
.STORE registration details
.STORE is open for registration to anyone for a period of 1-10 years.
The .STORE domain registration process is quick and simple, with no specific requirements to follow.
.STORE domain names that have been registered with another registrar can be transferred over to us at the same price.
An EPP key will be required for the transfer procedure to complete successfully.
How to activate the .ONLINE domain extension on your store?
.STORE is enabled by default on your store.
If you haven't made tweaks to the TLD list in your Reseller Control Panel, the new TLD will be listed next to .COMPANY.
If you have changed the original TLD order, however, .STORE will be positioned at the bottom of the TLD table under Domain Prices.
You can now enable it on your store and choose its best position from a marketing point of view:
.STORE promotion details
As per our accreditation agreement with Radix, we can now offer a long-term promotion on the 1-year .STORE domain registrations.
You can enroll in it from your Reseller Control Panel:
If you've already selected the option to enroll in the new promo campaigns automatically, then the current .STORE promotion is already running on your store.
All you will need to do is update your retail price in accordance with your overall marketing strategy.
Originally published Friday, February 23rd, 2018 at 7:27 pm, updated February 23, 2018 and is filed under Domain Names.
Tags: domain extensions, nTLDs, domain promotions
One Response to ".STORE – the perfect namespace for your e-store, has premiered on our platform"
Hh Rym Tntn Says:
February 24th, 2018 at 3:11 pm

Good to see your adding more extensions i hope to see .io soon
Leave a Reply