VPS – the new hosting choice for e-commerce startups
Server virtualization keeps making its way into users' hearts, with more affordable VPS solutions springing up on the market every day.
When introduced to the public almost ten years ago, Virtual Private Servers were meant as a transitional solution between shared and dedicated servers.
However, times have changed and today a growing number of providers offer decently-priced VPS solutions for users on a shared hosting budget.
See how VPSs overtrump shared hosting services when it comes to hosting more resource-demanding projects like e-commerce stores , for example.
Why consider VPS hosting for your e-commerce startup?
Nowadays, many shared hosting providers are offering unmetered server resources and a multitude of features that can do magic to your sites.
However, the conventional shared hosting platform is limited by nature.
Since server resources are shared across different accounts, hosts need to take measures to protect users' privacy and to enforce various restrictions so as to maintain server stability.
These include CPU usage restrictions, RAM usage restrictions, file storage restrictions, etc.
So, even if a user is presented with a host of resources, they will hardly be able to make full use of them without compromising the given server's stability.
Some providers have addressed the shortcomings of the physical sharing of hosting resources among multiple users by means of server virtualization.
Virtualization allows for a single physical server to be split up between different users in a way that fully guarantees everyone's privacy and ensures 100% resource utilization no matter what.
In stark contrast to the regular shared hosting scenario, each VPS user gets their own virtual environment where they can make full use of the allocated resources without having to worry about other users interfering in their activity and without compromising the physical server's stability.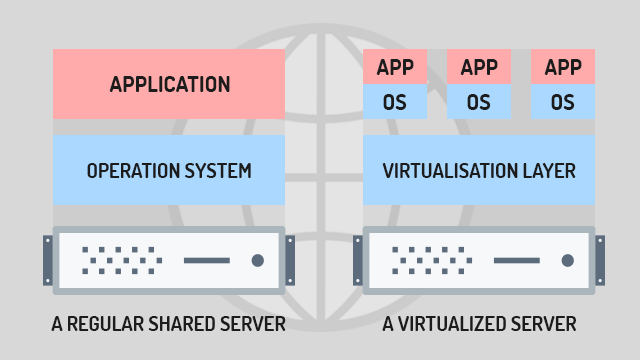 Apart from privacy, peace of mind and full resource utilization, each user is guaranteed the freedom to install any software they need for their ever-growing projects.
How does a VPS beat a regular shared hosting account?
When the first Virtual Private Server was introduced years ago, thе costs of maintaining this innovative hosting solution were high and server resources were still expensive.
Over the years, maintenance costs have dropped and the adoption of server virtualization has become more common, which has made Virtual Private Servers a mainstream solution and which has put them in a position to compete with regular shared hosting services in terms of user preference.
More and more shared hosting users have started asking themselves whether or not to move to a Virtual Private Server.
If you are an e-commerce startup, for example, you will need more resources as you grow. And these do not include only space and traffic.
Even if you avail of unmetered resources on a shared server, you will have a hard time running all the scripts your store needs and handling the growing number of customers and purchase queries because of insufficient server memory.
Here are the features that are typically restricted to shared hosting account owners:
Background processes – for security reasons, most shared hosting providers do not offer support for scripts running in the background. Background processes are often used for content caching purposes. For instance, the Magento script needs the background-running Varnish web accelerator to reduce the response times and the overall network bandwidth consumption.
PHP memory – on a shared server, you will be allocated limited PHP memory resources for the sake of server stability. E-stores that showcase memory-intensive product listings need more memory for the PHP processes to run properly.
Simultaneous processes – there will be a limit to how many threads can be run simultaneously, again, for server stability's sake. Simultaneous processes are key to the maximum number of page requests you can serve at any given time and their presence will be crucial for your e-store during peak traffic times.
MySQL connections – the number of allowed simultaneous MySQL database connections will also be limited on a shared server. Databases lie at the heart of any e-store, so MySQL connection limits will have an immediate impact on your store's capacity to handle requests during peak traffic periods. Well, that's normal.
After all, a server cannot be "unlimited"'.
We have compiled a list of reasons as to why users who'd like to run more complex projects like an e-store prefer going with an entry-level VPS solution:
The benefits of a Virtual Private Server over a regular shared hosting account
The benefits of choosing a VPS over a shared hosting account are mainly connected with the fact that the server resources are virtually isolated and pre-allocated, which allows the user to make full use of what they have paid for at any given moment.
Here are some of the key VPS benefits: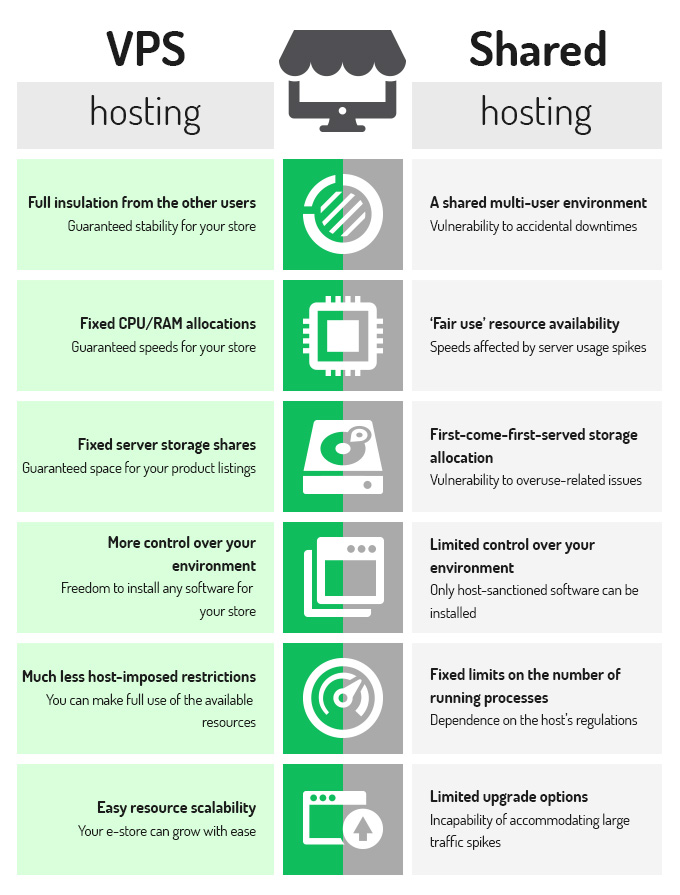 Full insulation from the others on the same machine – on a VPS, if another user is misbehaving, this will not have a direct impact on your projects. If a given account gets compromised, only the respective user's virtual machine will crash – there won't be any consequences to the physical machine where your container is located. This way, you will be intact no matter what happens to the other virtual environments on the mother server. This is great if you have an e-commerce site in which case a minute of downtime can cost you diverted customers and missed profits.
Guaranteed speeds – your speeds will always be guaranteed regardless of the present needs of the other users on the same machine and/or of their activity. For example, if two CPU cores have been allocated to you, then you will always have those two at your disposal. If you have paid for 4 GB of RAM, the amount in question will always be at your disposal no matter whether the other users on the same machine are in an excessive need of RAM or not. So, on a VPS, all the resources that your e-store needs will be at your full disposal at any given moment, in contrast to the shared hosting scenario where speeds are affected by server usage spikes.
Guaranteed Stability – using virtualization software, a single physical machine can be partitioned into many independent containers that emulate a dedicated server environment. This way, on a VPS you can never experience service interruptions, hiccups or downtimes caused by the other users on the same machine. This will help your e-store welcome customers at any time, no matter what.
Guaranteed space – on a VPS, your server space will be at your disposal exclusively. No matter if you use it or not, the resources you've paid for will be 'kept away' from the other users on the same physical machine and will be available to you at any given time. On a shared server, you will be sharing the available resources with many other users, so the space you can avail of will largely depend on how 'loaded' the server is at any given moment. For a storage space-sensitive website like an e-store, where the number of newcomers grows by the hour, this 'uncertainty' could be critical.
More control – on a VPS, you can get complete root access to your server environment and install any custom software you need for your store. On a shared server, the number of popular software packages a single user can install is limited for security reasons. So, if you are tech-savvy or if you know someone who can do the installation job on your behalf, you can take advantage of software flexibility no shared hosting service is capable of providing.
Easy scalability – the ability to scale your hosting resources is very important if you want your website to grow. On a VPS, you can easily be allocated more resources whenever you need this. If you do not expect great website traffic spikes, then scalability may not be of great importance to you. However, if you are planning to run a promo campaign on your store, for example, and expect a high traffic surge, resource scalability will be crucial. On a VPS, you can add more RAM to your container with a mouse click.
Cost-effective solutions for e-store startups – VPS hosting solutions are now much cheaper than they were a few years ago and the prices are expected to keep going down on the heels of the latest advances in server virtualization. The increased affordability makes VPS hosting an option for a growing number of sites. Today, you can get a small, private virtual hosting environment for as low as $15 per month. That's almost the price of a more advanced shared hosting account, minus the objective limitations associated with the shared environment.
If you are interested in getting a VPS, read further to learn more about the VPS hosting solutions available on our platform.
The VPS solutions provided by ResellersPanel
On our platform, we offer Virtual Private Servers that are based on the OpenVZ and KVM virtualization technologies.
OpenVZ-based VPSs
If you are dipping your toe in the virtual server world for the very first time, this is the solution for you.
You can choose from a wide range of e-commerce-optimized OpenVZ VPS configurations:
Most of the packages include managed services, so you can get in touch with our experienced administrators whenever you need help installing a certain software app, updating your OS or troubleshooting a problem.
Plus, you can combine your OpenVZ-based VPS with our point-and-click Control Panel, which comes free of charge with each configuration.
Alternatively, you can select cPanel or DirectAdmin.
KVM-based VPSs
These virtual servers are meant for more experienced developers who feel comfortable working with a command line.

On a KVM VPS, you will have more control over your server environment, full root access and the ability to choose from a larger variety of Operating Systems.
—
All OpenVZ- and KVM-based VPS configurations come with super-fast SSD drives and guaranteed CPU and RAM shares.
Each VPS package includes weekly data backups and 24×7 tech support.
NOTE: You should be careful when choosing a VPS setup for your e-commerce startup. Since the available resources will be split between the Control Panel installation and your sites (for instance, cPanel needs about 1 GB of RAM), you should look for а solution that can accommodate your projects properly.
***
Shared hosting offers you a great opportunity to start your business on a tight budget.
However, as your projects grow, you will need more and more resources so as to handle their increasing demands adequately.
On a shared server, you can never be guaranteed immediate resource availability, since this will largely depend on the overall server resource utilization at any given moment in time, as well as on the stability-focused restrictions set by the respective provider.
Resource-wise, shared hosting servers give way to VPSs. Virtual Private Servers give business startups the resource independence they need in order to grow online in a risk- and trouble-free way.
So, to cut a long story short, a VPS is the right choice for any serious e-commerce startup.
Yes, with a VPS the initial outlay may be a bit larger than with a shared hosting package, but getting the right server configuration from the get-go can save you tons of hassle in the long run.
If hardware virtualization costs continue to go down, we may well see the price gap between advanced shared hosting packages and entry-level VPSs diminish over time.
Originally published Friday, June 9th, 2017 at 10:49 am, updated June 9, 2017 and is filed under Virtual Private Servers.
Tags: shared web hosting, VPS, OpenVZ VPS, KVM VPS
Leave a Reply