Exclusive cyber deals on selected OpenVZ and KVM VPS plans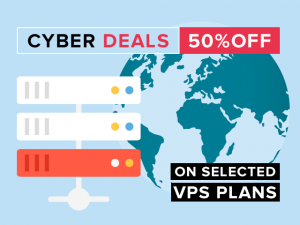 It's that time of the year once again where millions of eyes are staring at the display window or monitor with the hope of getting the best deal of the year.
This is why, we've prepared an exclusive deal to help you get your chunk of superb shopping season prospects.
You will be able to offer a 50% OFF discount on selected VPS hosting packages. The promo will be valid for a 12-month signup period and will be aimed at helping you engage your customers for a long time.
What is the new 50% OFF deal about?
The start of the holiday shopping season is the perfect time to seal a deal with your customers.
In order to draw eyeballs to your store, however, you will need an attractive offer.
Here is where the new 'Cyber Deals' discount kicks in and this will be in force until December 10th.
Starting from December 1, you can give your prospects the option to sign up for a 12 month period and get a 50% discount on selected VPS hosting packages.
The 'Cyber Deals' offer is valid for the following OpenVZ VPS packages: 
The promotion is in force for the following KVM VPS setups as well:
By paying half the price for one year in advance, your customers will in effect get 6 MONTHS FREE on a VPS hosting service!
Apart from giving great value to your customers, this offer is also a great tool for keeping them with you for a longer period of time.
In contrast to the existing $1 promo deal whereby customers can try out your VPS services for 3 months and decide whether to stay with you, this new promo offer is aimed at retaining them in the long run right from the start.
NOTE: The Cyber Deals promo covers a 12-month billing period. After that period expires, the customer will be able to continue using the service on a monthly basis.
How is the 1$ deal affected by the Cyber Deals promo?
The $1 promo and the 'Cyber Deals' promo offers can run simultaneously.
If you already have an active $1 promo deal and enroll in the 'Cyber Deals' campaign, the latter will show up in the promo areas of your store (if it uses the Store Master theme) with priority.
On the order form, both promotions will be listed so those not interested in a long-term commitment could select the 3 month promo period.
How to make use of the Cyber Deals promotion?
You can now enroll in the 'Cyber Deals' promo campaign with a single click from your Reseller Control Panel.
You just need to login, navigate to the Active Promotions icon in the header area and then click on the "Enroll" link for 'Cyber Deals' promo.
Once the promotions get rolling, we'll charge your customers half the price you have set up for the particular package (for a 12-month period) and will pay you 50% of the due commission accordingly.
NOTE: Keep in mind that the purpose of this promo campaign is to help you draw more attention to your store, so it is targeted at new customers only.
The new 'Cyber Deals' promotion is a great tool to help you enter into a long-term relationship with your customers and scale up retention rates.
All you need to do is attract eyeballs to your store. We'll do the rest by providing your customers with a stable VPS hosting platform and a super-fast 24/7 support service.
Originally published Thursday, November 22nd, 2018 at 5:33 pm, updated December 3, 2018 and is filed under Virtual Private Servers.
Tags: VPS reseller hosting, discounted VPS, VPS server hosting, OpenVZ VPS, KVM VPS, VPS hosting
Leave a Reply