The .JP domain extension is now 30% cheaper
The official country-code Top-Level Domain for Japan – .JP, is now available on our platform at a 30% lower wholesale price.
Now you can address the lucrative Japanese market with a really competitive .JP domain registration offer.
The price drop is long-term and is not tied to any temporary promotions.
.JP – Some historical background
When introduced back in 1986, .JP was administered by JPNIC (Japan Network Information Center) – a public organization, which was in charge of different Internet resource management functions.
On account of the growing importance and size of the .JP registry, a separate body – Japan Registry Services Co., Ltd. (JPRS), was incorporated in 2000 in order to satisfy registrants' needs and to maintain competitiveness on the local digital market.
A year later, the Japanese Domain Name Association (JDNA) was founded with the goal of coordinating all .JP namespace-related activities and on June 30, 2003, JPRS became the official .JP registry and took over the responsibility of overseeing all .JP domain name registrations.
Why offer .JP domains on your store?
The .JP ccTLD is a great marketing tool for targeting the flourishing Japanese market.
With more than 118 million Internet users, Japan has the 6th largest number of people connected to the network after China, India, the U.S., Brazil and Indonesia.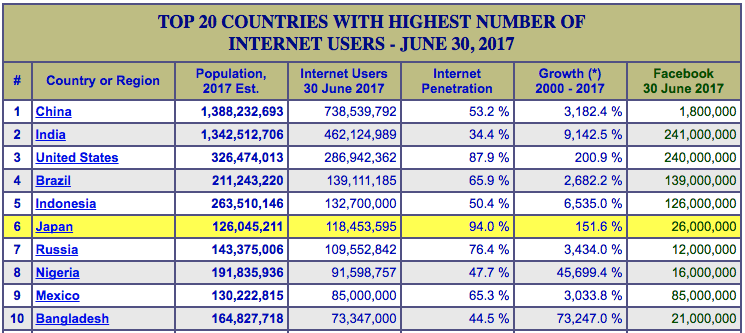 In 2016, retail e-commerce sales in Japan amounted to $90 billion dollars, which positioned the country as one of the strongest online markets in the world.
Digital buyer penetration stats reveal that almost 70 percent of the population in Japan shops online.
By adding the .JP domain extension to your store, you will address the needs of those users who'd like to enter the thriving Japanese market.
Why register a .JP domain?
With a .JP-ending URL, website owners will show their commitment to Japan.
The ccTLD is perfect for Japanese bloggers, businesses, people who are in love with the Japanese culture, etc.
The .JP extension is also preferred by Japanese users who search for information and services online.
What's more, local search engines tend to prioritize sites ending in .JP.
.JP domain registration requirements
.JP domains are open for registration to Japanese postal address-possessing companies and individuals.
.JP domains are available on a first-come, first-served basis and can be registered for a period of 1 year.
A .JP domain can contain 1–63 characters, including letters, numbers, dashes, or a combination of these.
If you have a .JP domain name registered elsewhere, you can transfer it over to us at the same price.
How will the new .JP cost affect your pricing?
The new price reduction will allow you to offer .JP domain names at a really competitive price.
Due to the substantial price drop, we have updated your retail prices accordingly.
To finetune the new retail price to your current marketing strategy, go to your Reseller Control Panel and make the necessary change in the Domain Prices section:
How to enable .JP on your store?
If you haven't already done so, you can enable the .JP domain extension on your web hosting store with a click from My Offers -> Domain Offers.

Originally published Wednesday, November 1st, 2017 at 5:46 pm, updated November 7, 2017 and is filed under Domain Names.
Tags: domain registration, tld extensions, ccTLDs
Leave a Reply