Expand your domain portfolio with a few, newly introduced, popular nTLDs
Recently, we announced а partnership with Donuts – one of the largest nTLD providers, that would allow us to expand your TLD portfolio and let you add attractive promotions to your store.
Today, we are pleased to announce the addition of 5 new domain extensions to the selection of TLDs you could offer under your brand.
These include popular extensions that cover various fields of activity including business, religion, education, sports and free time.
Read further to learn more about the nTLDs in question and the online presence benefits they bring to registrants.
Why is offering new TLDs in your store highly recommended?
With the launch of ICANN's new gTLD program in 2012, the domain market took a new turn towards offering a more diversified and highly competitive environment.

Under the program, registries were allowed to apply for new domain extensions that cover all manner of topics.
This allowed for the addition of namespaces which are precise, expressive and give a clear idea of what a website is about from a first glance.
This has made finding a web address that fits one's identity and building a brand easier than ever.
To help you make the most of this trend, we keep expanding the portfolio of new domain extensions with a new set of TLDs.
They will help you cater to a wide range of domain registrant prospects.

.BUSINESS

The .BUSINESS TLD was launched back in 2014 and has since scored almost 50 000 registrations worldwide.
As is clear from its name, it is a great, speaking-for-itself indicator that your website is about business and all manner of commerce.
The extension can be used in a variety of online business scenarios that could include consultation, education, analysis, etc. services.
It could add a great branding finish to your business blog or online portfolio.
Being a new and highly expressive namespace, .BUSINESS could help you to easily build a brand that is highly recognizable in the ocean of generic .COM and .BIZ sites.
As a still non-saturated namespace, .BUSINESS gives you a great chance to find your most desired site name from the get go.
For instance, you could easily build an online brand by just putting the products and services you offer (e.g. hand-painted phone cases, unique woodcraft, etc.) and add .BUSINESS after the dot. This way, you can instantly tell prospects what the business offers.
Consequently, this prospective business extension is being fervently adopted by small and large entities across all industries from around the world.
In fact, the .BUSINESS domain extension is open for registration to anyone and can actually be used for any type of website you want.
.CHURCH
Let's make a transition from business to spiritual life with .CHURCH.
The home namespace of the Christian religious community holds a great potential for spreading their faith activities online.
The TLD was launched in 2014 and has since been recording a steady growth rate with more than 25 000 currently being registered to date.
Records show that many churches across the world have recognized .CHURCH as the perfect namespace for their faith community.
After all, .CHURCH looks right on spot, in contrast to .COM or .ORG which have pretty a generic feel.
Especially in the USA where many churches bear the same name, .CHURCH has created the opportunity to avoid repetition and an overly generic look under the overcrowded TLDs by finding a domain name that features their exact church name.
The TLD is also a good choice for various denominations, pastors, youth communities, religion students, bloggers, etc. looking for a memorable and credible online presence.
Credibility is a great search ranking boost factor meaning that with the "church" keyword featured in your domain, you'll stand a higher chance of attracting organic traffic to your site.
Despite its specific nature, the .CHURCH domain extension is open for registration to anyone and can be used for any type of website you want.
.EDUCATION

The new set of domain extensions we've released today also includes .EDUCATION – the namespace dedicated to educational programs and content online.
Also launched in the first phase of ICANN's new gTLD program in 2014, .EDUCATION has already amassed nearly 25 000 registrations for websites targeted at education and learning.
With its appearance, the TLD has been immediately recognized as a primary domain choice by public and private schools, academies and universities.
Furthermore, it has turned into the flag namespace for all types of educational initiatives like online courses and seminars.
This is in addition to a tribune of teachers and resource providers wishing to promote and distribute informational content online.
Thus, the .EDUCATION namespace represents a reputable and credible hub of resources for anyone looking to expand their knowledge in a certain sphere, be it a local yoga class or a graduate program at a renowned college.
Despite its specific nature, .EDUCATION can be registered by any person, group or organization worldwide.
.GAMES
With the new TLD introductions today, we've thought about free-time and hobby activities as well.
You can now offer .GAMES – one of the most sought-after hobby namespaces online, and cater to the ever growing online gaming community.
The .GAMES extension was released just a few years ago but thanks to gaming entertainment being one of the most popular industries on the web, the registration volume has increased rapidly to reach almost 20 000 in Q1 of 2020.
With gaming being a broad term encompassing a great number of activities such as board games, computer/smartphone games, field games or casino games, etc., .GAMES is set to be a really wide purpose extension that could help you cater to a large user base.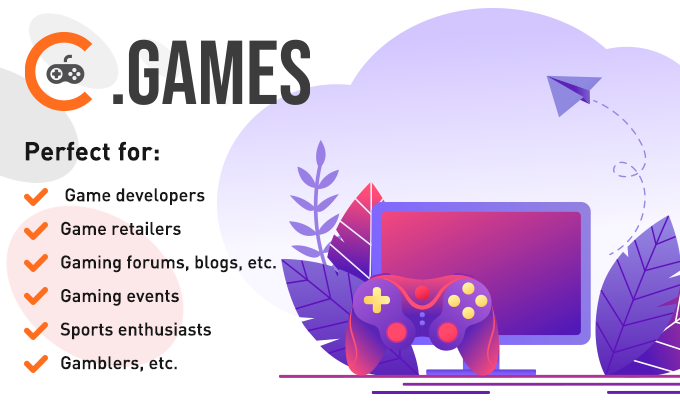 The extension is a natural choice for both game providers and enthusiasts, helping them create a precisely targeted online presence.
The gaming industry has gained huge momentum in recent years, having managed to lure whole families into gaming, not just the teenagers.
So, by offering .GAMES on your store, you will be addressing a wide range of demographics who are online to have fun and relax with their favourite game.
The list of .GAMES registrant addressees is quite long, including – game-dedicated developers, retailers, platforms, forums and events, gaming professionals and bloggers, sports enthusiasts, gamblers, etc.
The .GAMES TLD is wide open for registration to both businesses and individuals, with no specific requirements to follow.
.RUN
You can become the registrar of choice for the thousands of running enthusiasts around the world.
With the .RUN added to your portfolio, you will be able to cater to each, dedicated runner hitting the streets, parks and trails with a passion for self-improvement and pure, endorphin-filled satisfaction.
The .RUN TLD was launched in 2015 and is now running for the 20 000th registration, thanks to it being recognized as the namespace for one of the most popular fitness activities worldwide.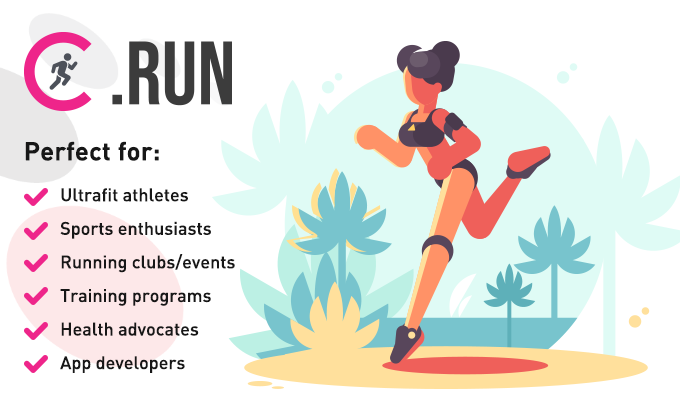 By offering .RUN on your store, you are directly addressing a wide target base of athletes, sports enthusiasts, coaches and running clubs who are looking to have a representative name for their online presence.
It is just as suitable for race sponsors, running gear retailers or health supplement stores who are looking to attract the right audience by including their primary RUN keyword in their website name.
Also, .RUN is a great choice for app developers who need a designated space where they can share reports and tests of the projects they work on.
How to activate .BUSINESS, .CHURCH, .EDUCATION, .GAMES and .RUN on your store?
All new TLDs are enabled by default for all partners who haven't made any changes to their domain portfolio.
Those who have made tweaks to their TLD listing will need to activate them one by one from the Domain Offers section of their reseller dashboard:
We've added a drag-and-drop functionality for the TLD table, so you can now easily choose the best position for each TLD from a marketing point of view.

Originally published Thursday, March 5th, 2020 at 4:34 pm, updated March 5, 2020 and is filed under Domain Names.
Tags: domain registration, domain reseller, tld extensions, generic TLDs, nTLDs, gTLDs
Leave a Reply