.NO – the official ccTLD for Norway, is now up for registration on our platform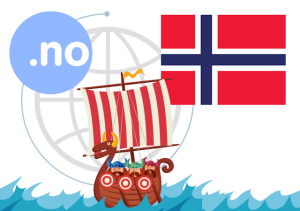 The country-code Top-Level Domain for Norway rounds up the list of Scandinavian domain names on our platform.
It follows the recent launch of .FI, which was preceded by the introduction of .DK and the .SE price update.
Now you have the entire arsenal of Scandinavia-related ccTLDs to target the lucrative North European market.
Learn more about the importance of the .NO extension to the local and regional markets and the respective .NO domain registration specifics from our post.
The history behind the .NO ccTLD
The .NO country-code TLD is presently managed by Norid, which is a subsidiary of the state-owned Uninett and operates under the supervision of the Norwegian Post and Telecommunications Authority.
In 1983, the administration of the .NO ccTLD was granted to a local Internet specialist working for the Norwegian Telecommunications Administration's Research Institute.
However, the workload became too high and the need for a non-commercial organization to step in arose. This is how the responsibility was transferred to Uninett in 1987.
The state-wide penetration of the Internet caused a boom of registrations and 1995 saw the 1000th .NO domain registrant.
In 1996, Norid was established as a division within Uninett. In 2003, Uninett Norid was registered as a separate limited company to secure the management of the extension within an independent organization.
Until 2001, there were tight .NO domain registration restrictions – a given organization could register only one single domain name, which was manually verified by Norid, since trademark ownership had to be proven.
The registration rules were liberalized in 2001 when the process became automated and a dispute resolution policy was introduced.
This led to a boom of registrations and the number of .NO domain-fitted websites exceeded 100,000 in less than a year.
At first, a .NO domain could contain only the basic Latin letters, but in 2004 twenty-three characters from the Norwegian and Sami languages were 'whitelisted'.
Since 2007, registrants have been able to get an all-numerical .NO domain name as well.
All that resulted in a further increase in the number of registered .NO domains, which reached 500,000 in 2011.
Since November 2011, organizations have been permitted to register 100 domains. Three years later, individuals became officially eligible to register a .NO domain.
.NO domain registration requirements
As of now, .NO domains are only open to organizations/companies and individuals with a local presence in Norway.
Here are the requirements an organization/individual must comply with in order to obtain a .NO domain name:
Organizations/Companies:
must be registered with the Central Coordinating Register for Legal Entities;
must have an organization number;
must have a postal address in Norway;
must be able to document activity in Norway upon request from the Norid registry;
There is a limit on the number of .NO domains a single entity is allowed to register.
Individuals:
must be at least 18 years old;
must be registered in the National Registry;
must have been issued a national identity number;
must be residents of Norway;
A single person can register up to 5 .NO domains.
NOTE: If a person moves to another country, they will retain ownership of their existing .NO domain(s), but will not be able to register another .NO domain while living abroad.
Syntax requirements:
.NO domain names must consist of 2 to 63 characters and must start and end in a digit or a letter.
ISO basic Latin alphabet (A-Z);
digits (0-9);
hyphen (-);
Norwegian language letters (æ, ø and å);
20 special Sami language letters (á·à·ä·č·ç·đ·é·è·ê·ŋ·ń·ñ·ó·ò·ô·ö·š·ŧ·ü·ž).
A large number of domains are unavailable for registration, including names of geographical settlements and islands, which may become second-level domains in the future.
Upon registering a .NO domain, the registrant signs a declaration that they are not infringing on the rights of other parties and that they will assume full responsibility for any consequences resulting from their use of the given domain.
The strict regulations have helped Norid keep cybersquatting and warehousing to a minimum.
How to register a .NO domain name
The extra local presence requirement renders registering a .NO domain more time-consuming than registering a .COM domain, for example.
Apart from the regular registration procedure on our site, the registrant will also need to go through a few extra validation steps.
Here is an overview of the typical .NO domain registration procedure:
The registrant selects the desired domain and fills out the domain registration form.
The registrant will receive an email from us, which will contain a link to a ticket in our Control Panel created by a support representative of ours for the particular .NO domain registration procedure exclusively; the email will contain a link to an online declaration form on Norid's site. The registrant must fill it out in order to proceed with the registration.
Once the online form has been filled out, the registrant will receive a .ZIP file via email, which must be then sent to us via the same ticket along with the following documents:
a copy of their ID card/driver's license/passport (for individuals);
a copy of a certificate of incorporation (stamped) (for organizations/companies);
For individuals: along with the ZIP file, the registrant will also need to send us their PID number, which we'll need to apply on our end as well;
Once we've got all the required information (the .ZIP file with the respective ID/certificate copies, and the PID number if the registrant is an individual), we'll submit your registration request to the registry and will do our best to complete the registration process as soon as possible.
How to enable .NO on your store?
The .NO ccTD has been enabled on behalf of all partners of ours who have not made updates to their TLD listings yet.
All you will need to do is simply move it to the desired position in the domain search form:

If you have made any updates to your TLD portfolio, you will need to enable the .NO extension from the My Domains section of your Reseller Control Panel:

Why offer .NO domains on your store?
Today, Norway ranks as the second wealthiest country in the world. It has the largest capital reserve per capita of any nation and the second highest GDP per capita in Europe.
Norway had the highest UNDP Human Development Index ranking in the world for six consecutive years (2001–2006), and then reclaimed this position in 2009 and 2010.
The standard of living in Norway is among the highest in the world. Foreign Policy Magazine has judged Norway to be the world's most well-functioning and stable country.
Taking also into account the tight security measures the .NO registry has undertaken to secure domain registrations, it's safe to say that Norway maintains a high standard on all fronts.
Norway's impeccable reputation and sky-high service provision standards make this Scandinavian country a market worth targeting.
The figures speak for themselves. Since 2001 when the registration rules were liberalized, the annual number of .NO domain registrations has increased significantly.
Until 2001, only 70,000 .NO domains were registered, whereas today that number exceeds 700,000.
Watch the video that Norid uses to popularize .NO domains on the Norwegian market:
Originally published Friday, May 19th, 2017 at 4:12 pm, updated May 22, 2017 and is filed under Domain Names.
Leave a Reply