.CH domain registrations now 30% cheaper
Launched on our reseller hosting platform more than 6 years ago, .CH – the official ccTLD for Switzerland, has since been a preferred choice for many users around the world.
Albeit initially meant for Switzerland-related websites, the .CH domain extension has gained global popularity due to its being extremely domain hack-friendly.
To help you make the .CH TLD extension more marketable, we've cut down its price by 30%. This is a long-term price reduction, which is not tied to any temporary promotion. Learn more about the benefits of offering .CH domain registrations on your store from our post.
.CH – historical background
.CH – the official country-code TLD for Switzerland, was launched back in 1987 – just two years after the .COM extension itself.
It is administered by the SWITCH foundation, which is also in charge of .LI – the official ccTLD for Liechtenstein. The foundation is acting as registry on behalf of the Swiss Federal Office of Communications and the Liechtenstein Office for Communications.
"CH" is the official ISO 3166-2 code for Switzerland and is also used on vehicle plates. The abbreviation "CH" stands for Confoederatio Helvetica (Helvetic Confederation). The country's Latin name was chosen on account of its being 'equidistant' as far as the four official languages of Switzerland were concerned.
.CH was launched to the public in 1995. .CH registrations have been growing steadily during the last 22 years and now there are more than 2 million active .CH domain names.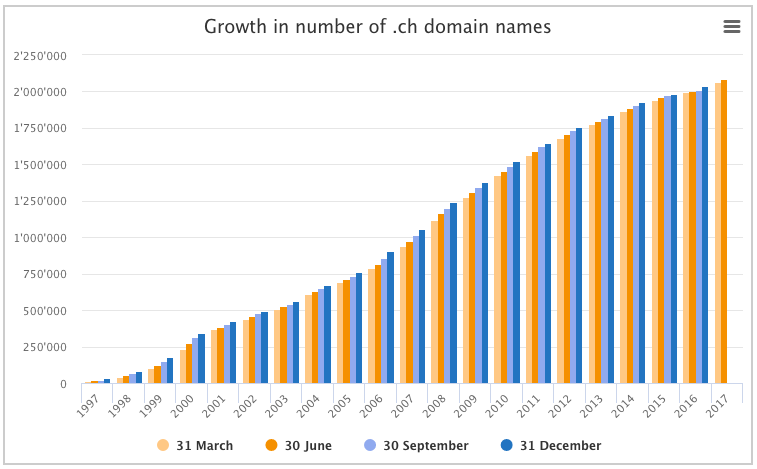 Although the .CH extension has been on the domain name market for a long time, it still represents a source of attractive domain hacks because of the large number of English and German words ending in "CH".
Most .CH domains contain German content (German is one of the official languages of Switzerland), which means that many valuable and creative combinations in English are still available. Besides, most of the reserved .CH domains are focused on the European market.
All that makes the .CH extension a goldmine of attractive domain combinations in Chinese as well. Chinese domain registrants have been inspired by the opportunity to use a similar-looking namespace that is not as crowded as the .CN one.
Why offer .CH domain registrations?
Switzerland is a prosperous market economy. It has a low unemployment rate and one of the world's highest levels of GDP per capita. It is a banking paradise, which attracts investors from all around the world.
All that creates a fertile environment for the Swiss Internet market to blossom.
A growing number of businesses prefer to register a domain under .CH rather than under a generic extension, because the local extension will add authenticity to their online business presence and will give them a greater chance to rank higher in local search results.
The .CH domain extension is very popular on the global domain name market. Due to the big number of English and German words ending in "CH", .CH is often used for creating different catchy domain hacks. Examples include LUN.CH, TEA.CH, SCHA.CH and so on.
.CH domain registration requirements
.CH domain names are open for registration to anyone – from bloggers to global financial institutions, for a period of 1 year.
Regardless of whether or not the registrant is connected to Switzerland, they can reserve a catchy, attractive, keywordish site name – one that may be unavailable under other TLDs.
.CH domains can include between 3 and 63 characters and must begin and end with a letter/number.
A .CH domain can include letters (A-Z), numbers (0-9) and dashes.
Currently, ID protection services are not supported. All registrant information will be publicly displayed in the WHOIS database.
How will the new .CH cost affect your pricing?
The .CH price reduction will allow you to offer attractive domain names to prospects from around the world at a really competitive price.
Due to the substantial price drop, we have updated the prices set by both our new and existing partners to the new retail levels.
To finetune your retail price to your pricing strategy, go to your Reseller Control Panel and edit the current default retail price.
How to enable .CH on your store?
If you haven't enabled the .CH extension yet, you can do so with a click from My Offers -> Domain Offers in your reseller dashboard:
Originally published Friday, August 4th, 2017 at 8:45 pm, updated August 7, 2017 and is filed under Domain Names.
Tags: domain registration, domain reseller, domain promotions, ccTLDs
Leave a Reply