.DK – the country-code TLD for Denmark, is now open for registration on our platform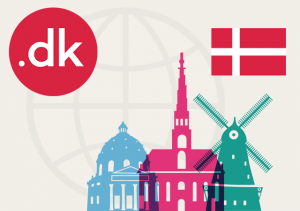 The official country-code TLD for Denmark – .DK, is now open for registration to all individuals, organizations and companies wishing to build a successful web presence in this high-potential Scandinavian country.
.DK represents another addition to the Scandinavian domain name portfolio. It's listed right next to .SE (the Swedish country-code TLD) on your stores.
Learn more about .DK and why you should consider offering it to your customers.
.DK – some history and facts
Launched back in 1987, the .DK TLD has had a very turbulent history. Originally introduced at the ARPA Network Information Center at the Stanford Research Institute, the domain has changed ownership a few times already. It was first assigned to the Danish UNIX User Group.
At that time, .DK registrations were open to universities and legal entities only, with less than 10 000 domains registered in total.
In 1996, .DK was sold to Tele Denmark, which created a stir among Danish telecommunications and Internet service providers who feared a Tele Denmark monopoly and formed the Foreningen af Internetleverandører (FIL) organization, which removed all legal restrictions for registering a .DK domain name and created an unprecedented interest in the TLD.
The registration volumes themselves skyrocketed to 41 000.
This created a series of legal actions against FIL's members who were accused of using inside information to register a large amount of catchy domain names quickly.
In March 1998, Tele Danmark put DK Hostmaster (the non-profit entity managing .DK domains) up for sale. This was followed by a meeting between all the players on the Danish Internet market, aimed at reaching a long-term agreement on the administration of .DK domains.
This resulted in the formation of a self-owning institution – Dansk INTERNET Forum (DIFO), which bought DK Hostmaster by means of an external investment.
DIFO and DK Hostmaster have chosen the 'sole registry' domain administration model, which ensures a direct contractual relationship between the registry and the registrants.
Why register a .DK domain?
After the liberalization of the registration requirements and the following establishment of a stable management model at the end of the 1990's, .DK domains have become a magnet for companies, organizations and individuals not only on the Danish, but also on the whole Scandinavian market.
According to DK Hostmaster, currently there are 1.3 million registered .DK domain names owned by more than 700 000 registrants.
This growth in .DK registrations can also be attributed to the quickly developing Internet market in Denmark.
The southernmost and smallest of the Nordic countries, Denmark offers a great economic environment. Danes enjoy a high standard of living and one of the world's highest per capita incomes.
Also, the country has the lowest perceived level of corruption in the world. The World Happiness Report frequently ranks Denmark's population as the happiest in the world due to the country's highly regarded education and health care systems, and its low level of income inequality.
All that makes Denmark a highly prospective market, which you could target with a decent .DK offering on your store.
.DK – registration details
The .DK domain name is wide open for registration to individuals or entities on a 'first come, first served' basis.
The extension can be registered for a period of 1, 2, 3 or 5 years.
Unlike most TLDs, .DK offers flexible multi-year pricing options, in turn allowing you to offer up-to-32%-OFF discounts on multi-year registrations.
The length of a .DK domain can vary from 3 to 63 characters.
.DK domain names that have been registered with another registrar can be transferred over to us at the same price. An EPP key will be required for the transfer to complete successfully.
According to the rules of the registry, .DK domains cannot be renewed automatically for another year after having been transferred.
How to enable .DK on your store?
.DK is enabled by default on all web hosting stores. You can find it listed next to .SE:
If you have changed the original TLD order from your Reseller Control Panel, however, .DK will be listed at the bottom of the TLD table under Domain Pricing:
You can now activate it and choose its best position from a marketing point of view.
***
With its economic profile and quickly developing Internet market, Denmark represents a very promising web hosting and domain name market.
Adding .DK to your store is a great way to address this lucrative Scandinavian market with a rising economy and an ever-growing consumer audience.
Originally published Thursday, September 29th, 2016 at 3:02 pm, updated September 30, 2016 and is filed under Domain Names.
Tags: Domain Names, domain reseller, ccTLDs
Leave a Reply