Align your portfolio with the season of great savings by offering a set of promo-inspired TLDs on your store
The web has become the primary medium for finding the best deals in recent years due to the comforts of variety, accessibility, and speediness it provides online users with.
Especially today, when the pandemic mindset and economic concerns are key decision drivers in our daily routines, finding the best offer at a social distance has become the norm.
With the season of hot deals and best bargains just around the corner, we are happy to present a new line of domain names that can help you and your customers get a distinctive, promo-spirit-infused namespace where prospects can easily reach you from the comfort of their home and stay safe.
.BARGAINS
Bargain is a magic word that acts as a magnet to buyers. Finding the best deal online after thorough research is a rewarding experience that brings lots of satisfaction and brand engagement to shoppers.
Launched in 2014, .BARGAINS was designed to offer retailers a distinctive and magnetic namespace that instantly speaks the language of bargains to prospective buyers.
The .BARGAINS domain extension is a great match for retail outlets that specialize in offering markdowns, discounts, or coupons to promote sales.
Also, it is a great choice for websites that are focused on offering cheap products and services in general.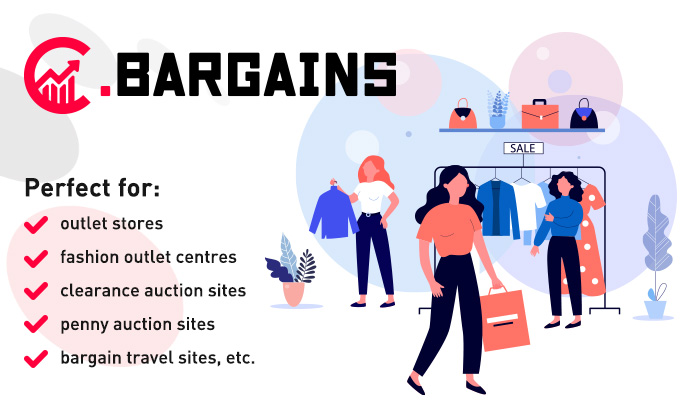 Retail stores can use .BARGAINS during their seasonal promo campaigns to help boost sales by reaching out to more prospects on the lookout for bargains.
Clothing stores, travel agencies, hairdressers, beauty salons, or any other business that offers quality goods or services at discount prices can take advantage of this powerful, attention-grabbing extension.
The .BARGAINS TLD is open for registration for a period of 1-10 years to any business worldwide, with no specific registration requirements to follow.
With the web opening to greater deals that help buyers make the most cost-effective choice in challenging pandemic times, .BARGAINS makes a great product for targeting the growing niche of online shoppers.
As a partner of ours, you can help retailers address this flourishing online market niche by adding .BARGAINS to your domain portfolio. It takes just a mouse click.
.CHEAP
As one of the most powerful keywords in e-commerce, "cheap" is associated with affordability and makes buyers know that they are in for a great deal from the start.
The .CHEAP extension was introduced to the public in 2014 to give e-commerce sites a dedicated namespace that conveys the marketing power of inexpensiveness in a keyword-ish way. 
With the .CHEAP keyword built right in their web address, online stores can easily reach out to their target audience of buyers in the lower price range of the market.
The extension perfectly fits any retail store specialized in offering discounted products and services, as well as group buying platforms that are focused on sharing great, limited-time deals.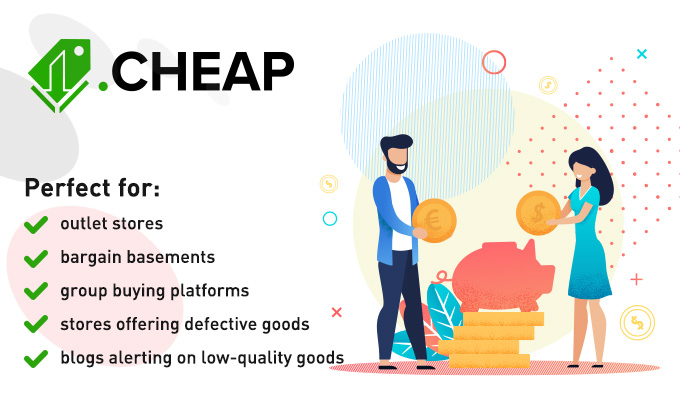 It can also be used by stores offering top-quality goods, with damaged packaging or little manufacturing defects, which can be a great bargain for buyers who cannot otherwise afford such.
The extension is also useful for blogs that post about products and services of low quality that should be avoided by buyers.
So, whatever type of inexpensive goods a store is specialized in offering, it can be instantly combined with .CHEAP and form the perfect web address that can be discerned from the crowd.
As a partner of ours, you can address an ever-growing niche of retailers who target the vast, affordability-driven market, by adding .CHEAP to your portfolio.
.COUPONS
Using the coupon code sales strategy is a sure-fire way for businesses to generate extra traffic, boost their sales, and improve customer engagement, both offline and online.
Launched in 2015, .COUPONS was meant to provide businesses specialized in coupons, promo codes, and cashback offers with a dedicated namespace that can help them reach out to more prospects.
The .COUPONS extension is a great fit for any business offering savings on retail, food, travel, prescriptions, etc. in the form of coupons.
Also, it can be used by portals that pull together and share an assortment of coupon deals to clearly define what their site is about.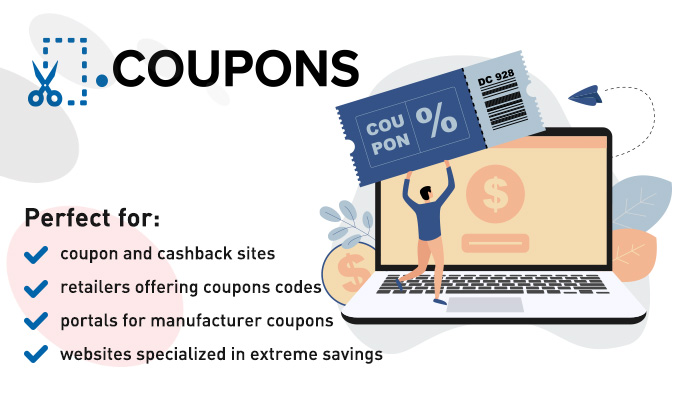 Businesses can create a separate website for the latest coupons, offers, and promotions and use .COUPONS to differentiate it from their main site.
Coupons are getting more popular today, especially in mobile marketing, which makes .COUPONS a must-have for each business using the coupon strategy.
As a partner of ours, you can easily tap into the growing coupon discount market by adding .COUPONS to your portfolio.
.FORSALE
We have become used to seeing the "for sale" sign both offline on various properties such as shops, offices, and houses, etc., and online as an instant indicator that the right buyer is being searched for.
With the .FORSALE extension launched in 2015, sellers of properties, goods, and used merchandise have a distinctive namespace to showcase their offerings in a well-targeted way.
It makes it easy for sellers of specialized goods to easily set up a marketplace and connect with potential buyers with a web address that speaks for itself, like sunnyhomeflorida.forsale or retrobuickcar.forsale, etc.
E-commerce sites with established web addresses can use .FORSALE to set up an SEO-friendly URL that they can forward to their online offers.
Online sellers can, in turn, register a .FORSALE domain name and forward it to their product listing on eBay or Amazon for better search engine visibility.
Being a partner of ours, you can easily address the growing market niche of online sellers and businesses searching for a highly targeted, SEO-friendly web presence, by adding .FORSALE to your portfolio.
.SALE

Seasonal promo campaigns or flash sales add a special festive flavor to online shopping increasing customer satisfaction and boosting brand engagement.
When .SALE was launched to the public in 2015, the thousands of e-commerce and brick-and-mortar retailers got a highly relevant namespace to communicate their sales campaigns in a highly targeted and engaging way.
With .SALE, both online and offline businesses can connect with more and more prospective buyers during limited-time sale periods.
Being straight to the point, keyword-defined, and attention-grabbing, .SALE tells both prospects and search engines that your store is in a great-value-for-money mode.
The extension is a perfect fit for all types of retailers that run regular promo campaigns on clothing, jewelry, cosmetics, electronics, home furnishings, etc.
As a partner of ours, you can easily target retailers searching for an efficient way to draw more eyeballs to their sale campaigns by adding .SALE to your portfolio.
.PLUS
Showing your "plus" points in an attractive and memorable way is a must for businesses that want to get noticed in the crowd.
Launched to the public in 2015, .PLUS gave companies of all sizes a very expressive namespace where they can highlight the plus sides of their business including attractive offers and product improvements.
The .PLUS extension signals advantages and greater-than-expected qualities and can thus be used in a variety of cases.
It is a perfect fit for websites that want to showcase their current deals, which can help prospects save big on hot items of good quality.
Designating "extra" in terms of quantity as well, the .PLUS extension can also be used by websites that offer bulk or overstock items.
The .PLUS extension is also a great way for hi-tech companies or device manufacturers to communicate an important upgrade to a product or service to their audience. This can set them apart from the competition.
The .PLUS TLD is open for registration for a period of 1-10 years to any seller or business online, with no specific registration requirements to follow.
As a partner of ours, you can offer your business customers an added-value-for-money proposition for an exciting new way to highlight their plus sides, by adding .PLUS to your portfolio.
.ROCKS
Saying something "rocks" is an intuitive way to express appreciation and satisfaction nowadays.
When .ROCKS was made open for registration in 2014, the web got a well-targeted namespace where everyone can identify their passion or business proposition as "rocking."
With .ROCKS, businesses can highlight the coolness of their brand or product/service, or the exclusiveness of their current promotions using attractive domain hacks such as: brandname.rocks, drycleaningthat.rocks, thistvpromo.rocks, etc.
Individuals, in turn, including reviewers, musicians, rock&roll bands, artists, etc., can use the domain hack scheme to form catchy web addresses for their hobby or occupation such as thisnewband.rocks, thismovie.rocks, etc.
.ROCKS is also a great TLD choice for geologists, rock climbers, and even jewelers who all know the authentic value of "rocks" from a professional perspective.
Given the high, multi-purpose marketing potential of the .ROCKS extension, you can target a wide audience and draw in new customers by adding the TLD to your portfolio of domains.
.COOL
One of the most intuitive words we use today to express emotional appreciation of something we like now has a dedicated namespace.
Launched officially to the public in 2014, .COOL came to make the web a much more likable place.
The .COOL domain name is a multi-purpose extension that adds a pinch of "coolness" to any personal or business website.
It is not just refrigeration or air-conditioning companies that can leverage the "cool" factor of this TLD.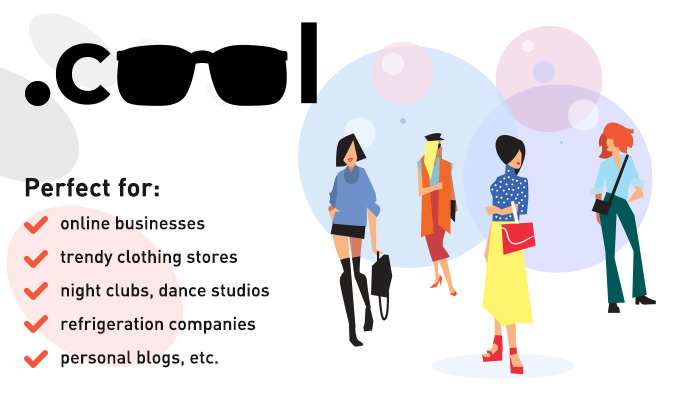 It can be used by businesses to highlight the exclusive benefits of their trending products or services or to engage prospects with special promo offerings.
Individuals can use this TLD to build websites devoted to whatever they think is smart and appealing; such as fantastic clothes, magnificent books, epic movies, etc.
With the high customer-engaging potential of .COOL, you have a great opportunity to address a wide target base of registrants that could bring more new customers to your store.
New TLDs – registration details and SEO benefits
You can offer all newly added promo TLDs on your store for a registration period of 1 to 10 years.
To help address security concerns, you can also offer a Whois Privacy Protection service, offered as an add-on service at the point of registration, as well as a DNSSEC feature, available as a free feature in the Web Hosting Control Panel.
By enabling businesses to easily build the image of a top promo destination in the eyes of their prospects, the new TLDs bring a great SEO value to the table as well.
By including target keywords in the URL of their websites, businesses can improve their search engine visibility.
With the exact topic of their business featured in the site name, they will be discernible in the crowd of legacy web addresses.
And this makes their web address more clickable and, thus, helps boost the organic score of their website.
Offer .BARGAINS, .CHEAP, .COUPONS, .FORSALE, .SALE, .PLUS, .ROCKS and .COOL exclusive promo prices until December 31st, 2020
All new TLDs have been added to the list of extensions available for reselling in your Reseller Control Panel.
Partners who have not made any changes to their domain listing will have the TLDs enabled by default:

Those of you who have made changes to the domain portfolio will need to activate them from the TLD table under "Domain Offers".
Thanks to the drag-n-drop functionality, you'll be able to rearrange your TLD listings to place the new TLDs in a more viewable position in your store:
All of the newly added TLDs are now available at exclusive promo prices until December 31st 2020:
***
The newly introduced promo-inspired TLDs represent a great marketing opportunity for businesses to push their "big savings" message through, especially in overcrowded periods like Black Friday/Cyber Monday and the holiday season.
They instantly communicate the purpose of a website facilitating customer acquisition and strengthening brand engagement.
With any of the extensions featured in a business's web address, consumers know from the start they have come to the right place for the best prices possible on the market.
Instead of having to comb through tons of websites to find the best deal, they will be able to recognize the right savings destination by looking at the web address in the search results. And that saves consumers time, browsing efforts, and, of course, money.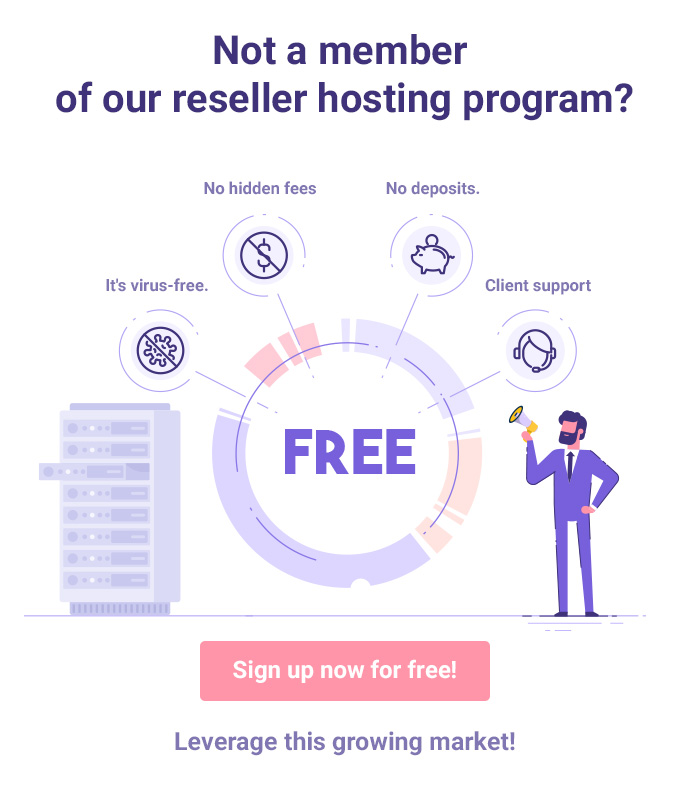 Originally published Friday, November 20th, 2020 at 3:21 pm, updated December 10, 2020 and is filed under Domain Names.
Tags: domain pricing, nTLDs, domain promotions
Leave a Reply