New storage configuration options now available for dedicated servers
Just a couple of weeks ago, we released a fully revamped line of dedicated servers on our platform.
Now you can offer your customers powerful SSD- and HDD-based dedicated hosting solutions at competitive prices.
Most server configurations offer expandable storage and now your customers can easily configure the disk space capacity of their machine right at signup.
What are the storage upgrades about?
Each dedicated server comes pre-configured with a specific storage capacity, which is consistent with the chosen type of drive (SSD or HDD) and the Operating System in use.
Your customers will be able to make the following storage customizations:
1. Change the current storage type – if the given server configuration offers HDD storage and is upgradeable, your clients will be able to switch to SSDs (and vice versa), if necessary.
2. Upgrade the storage capacity itself – if the given server setup offers expandable storage, your clients will be able to expand the default disk storage and/or order additional disks, depending on the capacity of the server setup at hand.
For instance, if a customer is interested in the Atom 1 package, they will be able to reconsider the default storage parameters of the plan (2×250 HDD) and choose to either swap the HDDs with SSDs or upgrade to a more powerful configuration.
They will also be able to add more disks to their Atom 1 setup, if necessary (in this case they will be able to use up to 3 disks at 2TB each).
You can see how it works in practice further below.
What dedicated server storage quotas are currently available?
Of the 11 dedicated server configurations that are currently available, 8 offer expandable storage.
In the table below, you can see the default storage quota each server comes pre-configured with (middle column) and the maximum possible storage capacity (third column):
As you can see, the default storage space can be increased by up to 93%.
This will give your customers a great opportunity to scale up their storage as per their particular needs.
How can customers make use of the new storage upgrade options?
Right after a given customer of yours selects their preferred dedicated server setup on the order form, they will be offered the option to configure their storage settings:

First, the customer will be able to decide which storage configuration to go with.
They could either go with the default storage quota:

or select an alternative storage capacity in accordance with their current and immediate future needs:
They will be able to upgrade their current HDD/ SSD storage capacity:
(1) – to switch from a more capacious HDD to a faster SSD:

(2) – or vice versa – from an SSD to a more capacious HDD (at no extra cost!) – if they want to use their server for storage purposes predominantly:
Apart from the option to upgrade the default storage, the clients will also be able to add extra disks (HDDs/SSDs) to their current setup:

Depending on the number of slots the given server setup supports, they will be able to add up to 4 extra disks.
How do I manage the storage upgrade options?
You can find the new storage upgrade options listed under 'Dedicated Upgrades' in the Dedicated Server Offers section: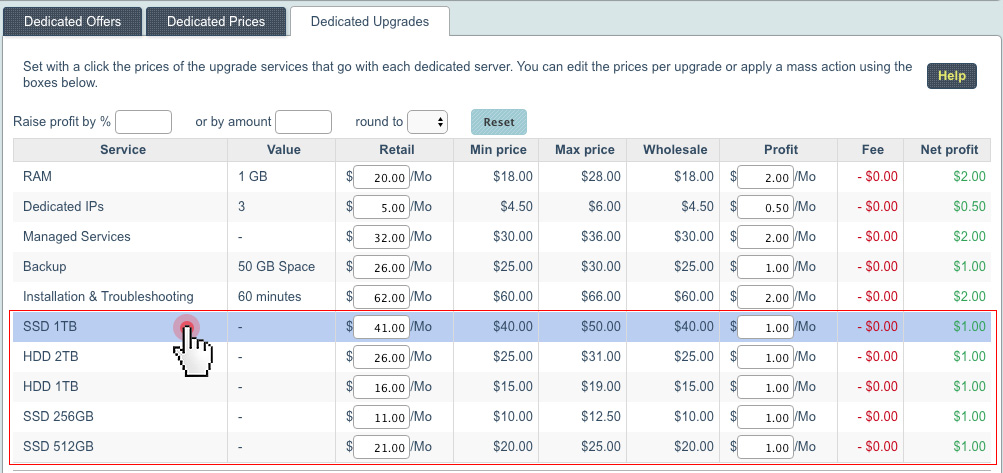 You can set your own retail prices on the basis of the wholesale ones:
***
The new storage upgrade options allow your customers to reconfigure the default storage parameters of their chosen dedicated server configuration according to their specific demands.
This makes the recently launched new line of dedicated servers even more flexible and capable of meeting the ever-growing demands of your dedicated hosting customers.
Originally published Wednesday, June 22nd, 2016 at 3:53 pm, updated June 22, 2016 and is filed under Dedicated Servers.
Tags: dedicated servers
Leave a Reply