A fully revamped line of dedicated servers on our platform
Dedicated servers lie at the heart of any qualitative web hosting service.
Due to their ability to offer maximum amounts of resources and utmost levels of flexibility, they can make any web hosting portfolio complete and fully competitive on a cut-throat market.
We have just revamped our dedicated server offerings to let you offer a wider choice of dedicated server solutions to your customers at much more competitive prices.
The number of dedicated servers has risen from 3 to 11
Up till now, we've been offering 3 HDD-based dedicated server configurations – an entry-level, Intel Atom-driven setup and two more advanced AMD Opteron-powered servers.
After a thorough analysis of our customers' demands and the current market trends, we've extended our existing line of dedicated servers, which now includes more packages, all of them SSD-based.
Due to the strong interest in the entry-level Atom series, we've added 2 more SSD-equipped, Atom-driven configurations offering higher CPU and RAM allocations.
Also, we've added 6 brand new SSD-equipped, Intel Xeon-powered server configurations for more exigent users who need much faster loading speeds for their projects:
What are the advantages of SSD-equipped servers?
Despite their higher prices, SSDs outperform HDDs in terms of data reading/writing capabilities.
You can see how SSD-equipped servers compare against HDD-equipped ones and learn more about the benefits of getting an SSD-powered hosting solution from our site.
Our administrators have compared regular enterprise-grade SSDs against professional HDD (SAS) drives capable of reaching speeds of 10,000-15,000 rpm (revolutions per minute). On the figure below, you can check the resulting performance benchmark figures: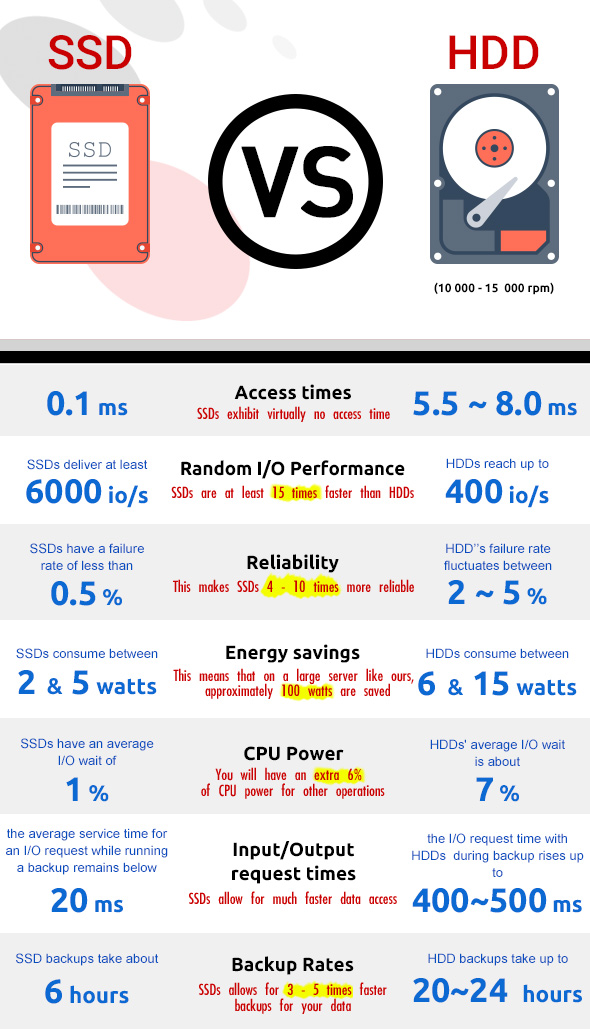 Intel Atom-driven dedicated servers
Intel Atom-based dedicated servers are a great starting point for users who are just stepping into the field of self-hosted solutions.
With the two newly added setups, you will be able to offer a complete range of Atom-driven server solutions to your customers: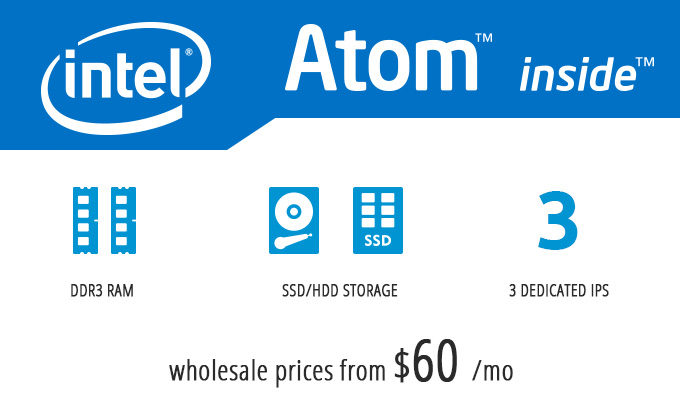 The new SSD-equipped Atom 2 and Atom 3 packages offer 8 GB of DDR3 RAM and 10 TB of monthly traffic.
AMD Opteron-powered dedicated servers
The two existing AMD Opteron-based dedicated server packages feature the same hardware parameters, but now boast much more affordable prices: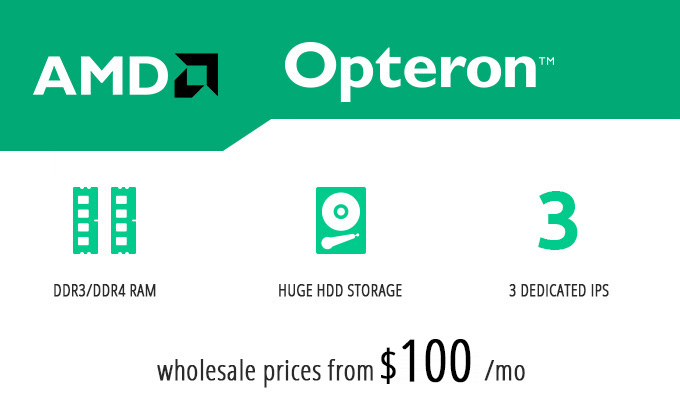 You can read more about the new price reduction a little bit further below.
Intel Xeon-based dedicated servers
The brand new line of Intel Xeon-driven dedicated servers makes a perfect addition to your hosting portfolio.
All 6 new server configurations are SSD-based and offer generous amounts of RAM and monthly traffic.
Depending on yours and your customers' needs, you can choose between different CPU core setups and RAM types:
NOTE: The 2 most advanced Xeon-powered setups – Xeon 4 and Xeon 6 are fully customizable and require a longer assembly time – up to 2 weeks.
The wholesale prices have dropped by up to 63%
Apart from implementing a substantial expansion of our portfolio of dedicated servers with new powerful setups, we've also reconsidered the pricing levels of the existing configurations to create a fully competitive line of dedicated packages in terms of features and cost:
Due to the great price reduction (up to 63% OFF) on the existing configurations, your current retail prices will be overwritten by the new default ones.
You can now modify your dedicated server pricing in accordance with your overall marketing strategy from the My Offers area of your Reseller Control Panel:
Availability and product policies
The new dedicated servers are enabled by default on your stores.
All new servers have generic names (Atom 1, AMD 1 and Xeon 1, etc.).
Since we would not like to meddle with the current product name policy of resellers who have set custom plan names, we have not renamed the 3 existing dedicated servers on their stores.
And vice versa – resellers who have been using the default plan names so far will see the new names on their stores.
To adjust the names of the new plans as per your overall product strategy, you should right-click on the name of the given server and make use of the 'Rename plan' option: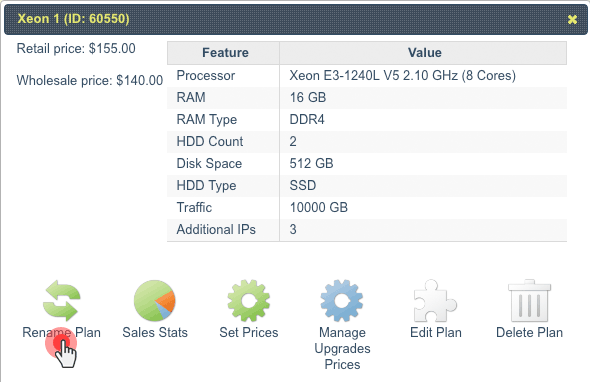 Depending on the particular availability in our partnering data center, the server packages may have specific stock numbers at any given moment.
If a server is not currently available, you will see an "out of stock" label in your Reseller Control Panel: 
Dedicated server packages that are not currently available will also feature an 'Out of stock' label in place of the 'Order' button on reseller stores (both WordPress and StoreMaster stores):
Update instructions for WordPress users:
To get the newly updated dedicated server pages, our WordPress users will need to update both their theme and the ResellersPanel plugin.
If you still have problems getting the update, you will need to clear the store's cache as well:
***
Currently, we are working on implementing an easy disk space addition mechanism on the order form for all 8 dedicated server setups that support expandable storage. We'll keep you posted here.
Originally published Monday, June 6th, 2016 at 4:33 pm, updated June 9, 2016 and is filed under Dedicated Servers.
Tags: dedicated servers
4 Responses to "A fully revamped line of dedicated servers on our platform"
Leave a Reply