.PT, the official TLD for Portugal, is now LIVE!
The country-code domain for the sun-blessed Portugal – .PT, is now open for registration and transfer on our reseller hosting platform.
This European domain extension would make a great addition to your online store portfolio, should you want to target this large and lucrative market.
The debut of .PT on our platform is a logical step following the introduction of a Portuguese version of the Store Master theme sometime ago.
.PT – some history and facts
The official TLD for Portugal has been around since 1988. It was not until 2013, however, that it was actually made available for registration on a first-come-first-serve basis.
Since the 1st of June 2013, the ccTLD has been managed by the DNS.PT Association, which makes it one of the few TLDs in the world that is administered by a non-commercial entity.
The DNS.PT Association is a non-profit organisation aimed at managing and overseeing .PT registrations based on the principles of transparency and publicity.
Its key mission is to ensure a safe and effective legal environment for registrants and to help accelerate the development of the Internet in Portugal and thus increase the country's competitiveness in the context of the rising digital economy.
According to the latest edition of the Digital Economy Study in Portugal conducted by IDC for ACEPI, the number of Portuguese Internet users has increased by 36% in the past 5 years, whereas the Internet penetration is expected to reach 86% in 2020:
Today, .PT is the 24th most popular ccTLD in Europe, with around 261,000 active .PT domain names registered so far:
In terms of popularity in the Portuguese-speaking world, it ranks right after .BR and .COM, and ahead of .NET, .ORG and .INFO, with over 10 million active pages.
Currently, the most popular .PT domains are sapo.pt, abola.pt and xl.pt.
Why register a .PT domain?
Portugal is the 16th most populous country in Europe with an estimated population of almost 10 million people.
As a member of the European Union since 1986, the country has always taken an active part in the organization's landmark events, including the introduction of the euro in 1999. In the Global Competitiveness Report for 2014-2015, Portugal is ranked as 36th economic power in the world.
Thanks to its mind-blowing beaches and rich cultural heritage, Portugal ranks among the 20 most visited countries in the world, receiving an average of 13 million foreign tourists each year.
In view of Portugal's promising economic environment and its ongoing digital market stimulation efforts, the .PT extension holds a large untapped potential.
According to the same report, 76% of the Portugal-based websites are using the .PT extension rather than .COM or .NET, the main reason for this being the Portuguese-language content and the local target market: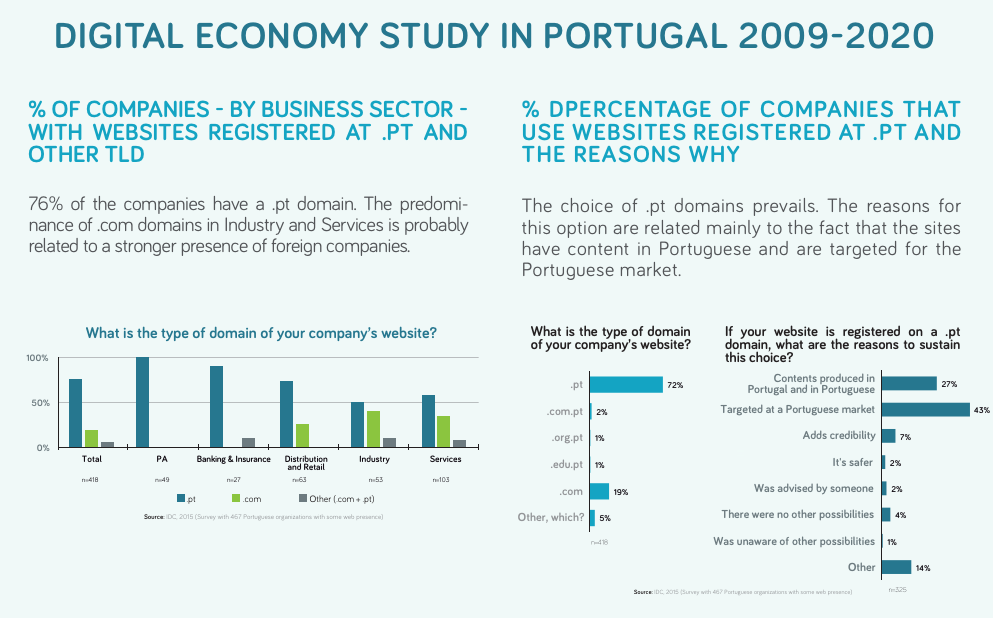 With a .PT domain-driven online presence, local and Portugal-based international entities will find it much easier to establish new connections and to find new opportunities on the Portuguese scene.
.PT – registration details
The .PT domain name is open for registration to individuals or entities with a presence in Portugal.
Companies will be required to present a company number, while individuals will need to submit a copy of their IDs.
The extension can be registered for a minimum of 1 year and a maximum of 5 years.
The length of a .PT domain can vary from 3 to 63 characters.
.PT domain names that have been registered with another registrar can be transferred over to us at the same price.
An EPP key will be required for the transfer to complete successfully.
How to enable .PT on your store 
.PT is enabled by default on all hosting stores. You can find it listed next to .PL:
If you have changed the original TLD order, however, .PT will be listed at the bottom of the TLD table under Domain Pricing in your Reseller Control Panel.
You can now activate it and choose its best position from a marketing perspective:
Adding .PT to your store is a great way to address a promising European market with a rising economy and an ever-growing consumer audience.
Originally published Thursday, June 9th, 2016 at 11:13 am, updated June 9, 2016 and is filed under Domain Names.
Tags: Domain Names, domain reseller, ccTLDs
2 Responses to ".PT, the official TLD for Portugal, is now LIVE!"
Cyril Says:
July 3rd, 2016 at 3:17 am

Nice. Please when will resellerpanel add .ng extension? .ng is for my country – Nigeria. We expect it soon. Thanks

resellerspanel Says:
July 6th, 2016 at 12:47 pm

Hello Cyril. Thanks for being part of our family. Unfortunately, the .NG partner we're working with is offering the domains at very high prices, which makes them really non-competitive to resell for now. We keep looking for better pricing opportunities …
Leave a Reply