The Plan Builder enhanced with new features
Flexibility is one of the key sides of our free reseller hosting platform.
Just like with the mainstream paid reseller programs, you can set up your own packages and tailor your service offerings to the specific demands of your target audience.
You can do all that using the Reseller Control Panel-integrated Plan Builder tool. We've enhanced it and now it offers even more service features.
What is the Plan Builder about?
The Plan Builder is an easy-to-use tool for creating shared web hosting packages straight from your Reseller Control Panel.
It allows you to configure your own custom packages with a click of the mouse, apart from the generic plan setups that are readily available for reselling on our web hosting platform.
While the generic plans are packed with tons of features and resources, the custom plans could be set up in such a way as to match the exact site hosting requirements of your particular target audience.
What are the new features of the Plan Builder?
Among the newly implemented Plan Builder features are the recently added CPU, mail storage, binary storage and backup space upgrade options.
Their main purpose is to allow the user to enhance the capabilities of their current web hosting plan to better accommodate their expanding needs.
Here is a list of the resources that could be added to each custom plan:
CPU resources – by default, each newly created web hosting package is entitled to 5% of the server's CPU resources. If you want to offer a more CPU-rich hosting solution to customers with more resource-consuming sites and apps, you can add up to 5% atop the default quota:
Mail storage – this option allows you to add more space (up to 180 GB) atop the default mailbox storage quota of 20 GB per hosting plan:

Binary storage – if you think that your customers will need more space for file storage purposes, you can add from 100 MB to 1 TB of binary storage to your custom plan(s):
Backup space – all web hosting plans are entitled to 5 GB of backup space. If you want to add more, you can use the 'Backup space' feature in the custom plan creation wizard:
How do I use the Plan Builder?
You can easily access the Plan Builder from the Shared Hosting Offers section of your Reseller Control Panel.
Just click on the 'Create a new plan' button on the right and you will go straight to the plan setup wizard where you can select specific resource allocations and features for each new plan you create.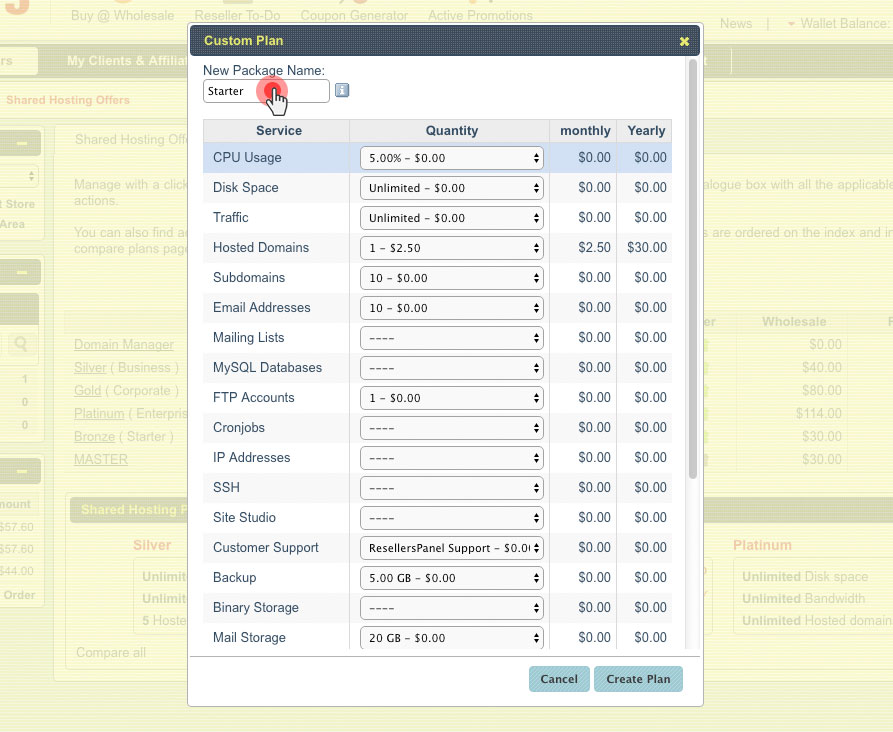 For example, you can set up an entry-level plan with unlimited disk space and monthly traffic and a decent amount of startup resources at a reasonable price (see the screenshot below):
Originally published Friday, April 29th, 2016 at 6:20 pm, updated April 29, 2016 and is filed under The Free Reseller Program.
Leave a Reply