.FR domains now free with a hosting plan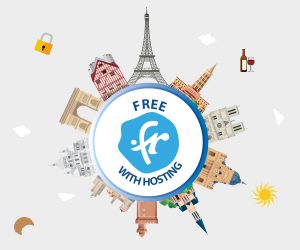 Just a few days after its Italian 'cousin', .FR joins the list of those TLDs that can be offered for free with a web hosting plan. The registration procedure has been simplified as well.
Learn more about the marketing potential of the official country-code Top-Level Domain for France and how you can benefit from offering .FR domain names on your store at a really attractive price.
.FR some history and facts
The .FR domain extension was introduced to the public back in 1986. However, for years on end it was available only to registrants who have a local presence in France.
It was not until 2011 that the .FR domain registration process was liberalized and the local presence requirement was dropped.
Since then, the French ccTLD has been available to any European individual, company or organization.
The extension is managed by AFNIC, which also takes care of the ccTLDs pertaining to the following French overseas territories: Réunion (.RE), Wallis and Futuna (.WF), Mayotte (.YT), Saint Pierre and Miquelon (.PM), and the French Southern and Antarctic Lands (.TF).
Why offer/register .FR domains?
France is the second-largest economy in the EU and the seventh-largest economy in the world in terms of purchasing power parity.
This makes it a large market with huge opportunities for foreign entrepreneurs.
Also, French is an official language in 29 countries, including Belgium, Luxembourg, Monaco, Canada, etc., meaning that you can target an audience of more than 270 million people.
According to AFNIC, there are over 50 million Internet users in France.
Over 80% of the searches have local intent. French businesses typically use a .FR domain name for their websites.
Apart from that, search engines give priority to local residents and always return results that are relevant to the searcher's location.
With a .FR domain, your site will stand a better chance of getting a higher search engine ranking.
All that makes the .FR domain extension a great marketing instrument for targeting the lucrative French-speaking market.
.FR domain registration requirements
.FR domains are open for registration to individuals, companies and organizations from the European Union, Iceland, Liechtenstein, Norway and Switzerland.
Registrants can register a .FR domain for a period of 1 year only.
Existing .FR domains can be transferred over to us. Once the transfer process has been finalized, the domain name's expiration date will be extended by 1 year counted from the transfer date.
.FR domain names must be at least 3 characters long; can be up to 63 characters long; can contain letters (A to Z), numbers (0 to 9) and hyphens (except at the beginning or end of the given domain name).
How to register .FR domains
Registering a .FR domain name has now become easier than ever.
Up till now, registrants have had to supply personal details like date of birth (if individuals) and SIREN/SIRET/VAT/Trademark number (if companies).
From now on, customers will not have to supply such information and will be able to register a .FR domain as if they are registering a regular generic TLD.
Applicants will just need to be citizens of the European Union, Iceland, Liechtenstein, Norway or Switzerland.
How to enable .FR and set it free with a hosting plan?
If you are not offering the .FR domain extension on your store, you can enable it with a click from the My Domains section of the Reseller Control Panel.
The .FR TLD can now be offered for free with any web hosting package.
If you have already enabled the free-domain-with-a-hosting-plan option, you will not need to do anything else.
If you have not taken advantage of this option yet, you can do so by visiting the Shared Hosting Offers section of the Reseller Control Panel.
Originally published Thursday, June 29th, 2017 at 8:35 pm, updated June 29, 2017 and is filed under Domain Names.
Tags: domain extensions, domain reseller, domain promotions, ccTLDs
Leave a Reply