.AT domain registrations 40% cheaper in the long run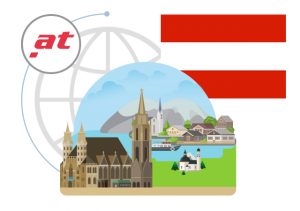 Another domain hack-friendly ccTLD saw a significant price reduction this week.
.AT – the official domain extension for the mountain-blessed Austria, is now available to you and your clients at a really attractive price.
Learn more about the potentialities of .AU domain names from our new post.
.AT – historical background
.AT domain registrations started back in 1988 when the .AT ccTLD was delegated to the University of Vienna.
For a period of 10 years, the University served as the official .AT registry. At that time, there were strict rules for registering .AT domains. They were open only to local residents.
The rules were liberalized in 1997, which lead to a significant increase in registration numbers.
Just a year later, in 1998, NIC.AT officially took over the administration of .AT domains.
Over the years, NIC.AT has taken a series of measures to further liberalize and streamline the .AT domain registration process.
In 2007, the registration of number-only domains was allowed.
In order to guarantee the authenticity and integrity of the DNS data, NIC.AT deployed the DNSSEC protocol at the registry level in 2011.  
In 2016, applicants were allowed to register one-character .AT domain names like A.AT, for example.
Why register .AT domains?
.AT holds a great potential for addressing the local Austrian market.
Austria boasts a thriving economy and a very high standard of living. The Austrian economy is dominated by the services sector (e.g. tourism), followed by the industrial and agricultural sectors.
Most Austria-related foreign businesses prefer to register .AT domains for their online portfolios or e-stores for the sake of relevance and trust.
Local users in turn trust .AU-ending site names more than those ending in another extension because the former convey a sense of national identity.
Apart from its local significance, the .AU ccTLD also offers great opportunities for clever domain hacks.
The enormous number of English words ending in 'AT' makes the official Austrian domain extension a preferred choice for creative web addresses. Examples include Many.At, MeetMe.At, Arrive.At, etc.
Another example of a successful .AT domain hack is DontEat.At, the popular Foursquare service.
This makes .AT somewhat 'generic' and expands the target market you can address.
.AT domain registration requirements
The .AT extension is open for registration by both individuals and organizations.
The domains themselves are available on a first-come, first-served basis and can be registered for a period of 1 year.
.AT domain names can contain 1–63 characters.
.AT domain names that have been registered with another registrar can be transferred over to us at the same price.
How will the new .AT cost affect your pricing?
The new price reduction will allow you to offer .AT domain names to your prospects from around the world at a really competitive price.
Due to the substantial price reduction, we have updated your retail prices accordingly.
To finetune the new retail price to your current marketing strategy, go to your Reseller Control Panel and make the necessary change in the Domain Prices section:

How to enable .AT on your store?
If you haven't already done so, you can enable the .AU extension on your web hosting store with a click from My Offers -> Domain Offers.

Originally published Monday, August 14th, 2017 at 3:45 pm, updated September 4, 2017 and is filed under Domain Names.
Tags: tld extensions, domain promotions, ccTLDs
Leave a Reply