Domain ownership certificates now in circulation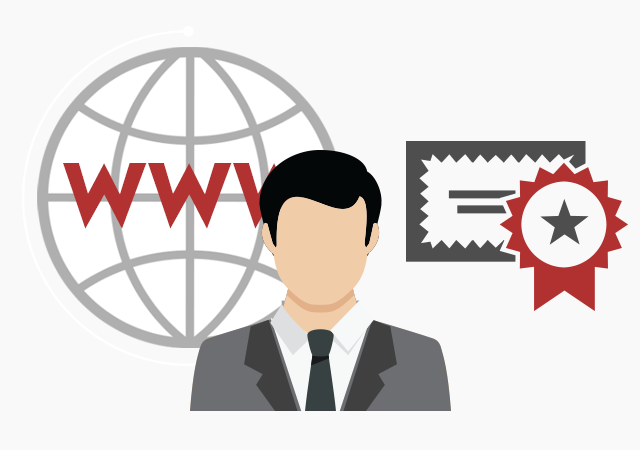 Ensuring a brand-favorable environment has always been a priority of our reseller hosting program.
From fully customizable storefronts to branded service notifications and invoices – we are doing our best to make sure that your business name is easily recognizable by your customers.
Today, we are glad to reveal yet another feature that will help you increase your brand awareness, namely our new domain certificates.
These certificates will be delivered to any customer of yours who has registered a new domain, has renewed their existing one or has updated their domain's WHOIS settings.
What are the domain ownership certificates all about?
The domain ownership certificates are still very little known on the hosting market – something, which will give you an edge over the competition.
Their main purpose is to substantiate the ownership of a given domain name in a visually appealing way.
Each registrant will be issued a professionally designed certificate even if the website associated with their new domain is not yet ready.
It can be printed, framed and placed on the respective registrant's office wall, for example.
Each certificate will display the following information:
the domain owner's name;
the domain name that has been registered/renewed;
the domain's validity period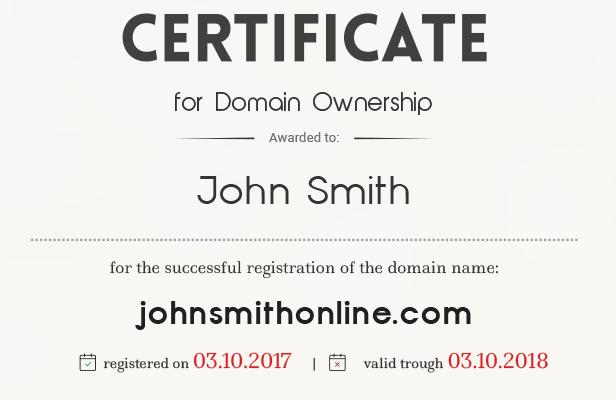 Apart from the above-listed details, we will also include the name of the hosting store from which the given domain name has been purchased.
This way, every time a customer of yours looks at their certificate, they will not only see their domain's expiration date, but also your very own brand name, which will stick in their minds for a long time.
In an effort to promote the Whois protection service, we've included a small, non-intrusive notice in the lower right corner of each certificate, which indicates whether the private WHOIS data associated with the given domain is protected or not.
We have created multiple certificate templates, so your stores will preserve their unique layout.
When are the domain certificates issued?
There are three types of occasions for which a domain ownership certificate can be issued, as follows:
A domain registration – each customer of yours who has successfully registered a new domain name will receive a certificate acknowledging this: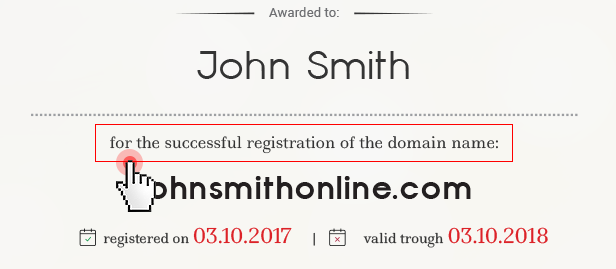 A domain renewal – the above-mentioned certificate will be re-issued once the given domain has been renewed; it will feature the new expiration date and the text will be slightly modified:
This way, your customers will always have an up-to-date certificate, which indicates the current status of their domain name;
A WHOIS update – as soon as the registrant's WHOIS details are updated, a certificate that reflects the change will be issued;
Customers who have renewed their domains or have updated their WHOIS details can simply discard their current domain ownership certificates, since they will be re-issued anyway.
All domain ownership certificates will be sent to the registrant's email address specified in the respective WHOIS records.
Future plans for the domain ownership certificates
For the time being, domain ownership certificates are delivered to customers by email only and are not visible in the Hepsia Control Panel.
We plan to make them available inside the Hepsia Control Panel in the near future. This way, a customer will be able to download the respective certificate anytime they want.
We also plan to start offering domain ownership certificates acknowledging successfully completed domain transfers.
However, due to the complicated nature of the domain transfer process, these certificates will be introduced later on.
Originally published Wednesday, October 4th, 2017 at 4:43 pm, updated October 20, 2017 and is filed under Domain Names.
Tags: domain registration
One Response to "Domain ownership certificates now in circulation"
Jackson Says:
October 15th, 2017 at 3:59 pm

This is great have received my certificate
Leave a Reply